NHRA Gets A Better Tripp!
Ms. Erica Enders a "Pro-Stock" driver in NHRA, recently had A Better Tripp, during the"Spring Nationals" in Baytown, Texas.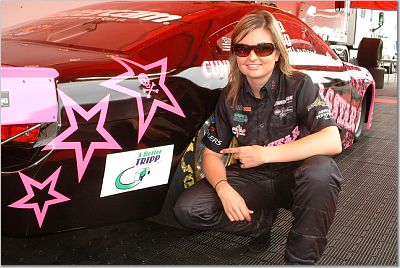 Erica and team owner Greg Enders, Erica's father, have used A Better Tripp for all of their moving services, and so decided to include the company as part of their run in drag racing's premier event!
The A Better Tripp logo has been applied to Erica's "Dragstar" racer in order to make each run "A Better Tripp!" We wish her the best of luck and we are proud to be a part of this exciting competition level of drag strip racing.
About A Better Tripp
With over 16 years of experience in the moving industry, A Better Tripp is dedicated to offering white-glove service to all of their customers. Their record of impeccable service has been recognized recently by both Angie's List and the Better Business Bureau. Whether you're moving a single piece of furniture or an entire houseful, A Better Tripp specializes in local Houston moving and long distance movers, packing, unpacking, and transportation services.
For more information about A Better Tripp Moving and Storage, Co., visit their website at www.abettertripp.com or call David Tripp toll-free at (877) 266-8348.