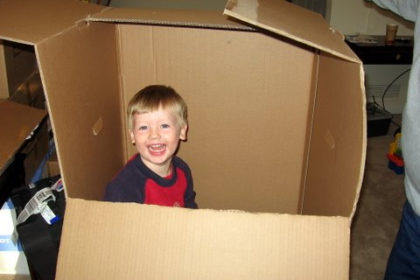 The Long and Short of the Moving Consultation Process at A Better Tripp
Moving is one of the most stressful things people do in life. In fact, "moving stress" often begins the day the decision to move is made. And what's the best antidote to a stressful situation? Talking to someone who understands and can help. That's where Renee Long comes in.
Long has been the sales manager at A Better Tripp for the last seven years. "It's my job to consult with our clients and open the lines of communication about all the details of the move," she says. "Every client consults with us, whether it's a local Houston move or an Interstate long distance move."
Take Time Before the Tripp
When she goes to a client's home, she'll talk at length with them and get a complete picture of the scope of the move. "A cross country move is priced by weight and distance," she says. "Sometimes, people underestimate the weight of their move, and based on that, a moving company will give them a quote. Then, on moving day, they're told that their move is much bigger than what they estimated, so they'll be invoiced for a lot more than what they thought. This is where the scams happen—when companies don't take the time to consult in person with their clients. That's not how we do things here at A Better Tripp."
Taking the time to get to know the client – and taking copious notes on all aspects of the home, the road, and the destination– are keys to making sure clients' stress levels are managed. "When I go to the home, I take notes on everything to pass along to the moving team. How many stories? Is there a pool table or a piano? A gun safe? Are they moving into a condo, an apartment, or into a rural or downtown home? If you don't ask all the questions and communicate with the whole team, there will be a lot of hang-ups along the way," Long says. "That's stressful for the clients and for us, so we do a very thorough job of our homework before the move ever begins."
A Giant Piece of Italian Glass
There are very specific packing instructions for fragile items, which are A Better Tripp's specialty. "I remember moving a family who had a very large piece of glass art from Italy," Long says. "I found out where they'd bought it and went to that place to learn how it was originally packed so that we could duplicate it, because none of the original packing material was kept. I made sure it was properly packed—I took lots of notes! The movers knew exactly what they were packing and how to do it beforehand. And that big piece of glass arrived at its new home in perfect condition."
Rules, Regulations, and Permits—Oh My!
People think moving is just not that complicated—and it's not, if A Better Tripp is taking care of the details. "Some of our clients don't realize that as we drive to their new destination, we might be going through cities that don't allow trucks at certain times of day," Renee says. "I research every move before we start. There are a lot of rules and regulations to be aware of before we send our guys on the road. In some cities, if you're moving into an apartment or condo building, you have to make elevator reservations. Or, you might have to buy a permit to park in front of a building so you can unload. Clients often have no idea about these things, but that's why we're here."
Talk to the Moving Experts
If you're already stressed about your move, and you're worried about your irreplaceable fragile items, it would help if you knew someone was there to make sure your precious belongings were packed the right way by people who care. "Last month, I moved 64 families," Long says. "We take extra care with each client, and we communicate with our team. Don't worry—we're moving experts. We'll get all your special belongings safely to your new home."