You'll want to clean your patio furniture very well to prevent mildew or mold. Wash all patio furniture with water and detergent and scrub with a brush and rinse. Umbrellas can be washed with mild detergent or an umbrella fabric to clean. The umbrellas should completely dry before going into storage. Fabric cushions can be machine washed or hand washed and dried. Seat cushions should be wrapped in plastic and stored in a bin.
Metal Patio Furniture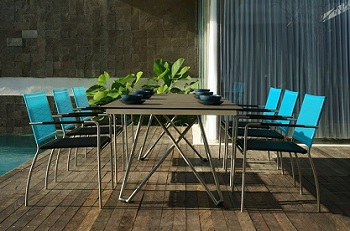 Metal patio furniture can be washed and wiped with detergent and then rinsed. The metal furniture should be treated with rust neutralizing primer. You then smooth with a steel wool to take off old paint. You can repaint with spray paint. Oiling or paste wax is a good preventive for not rusting and protecting your metal patio furniture.
---
Wrought Iron Patio Furniture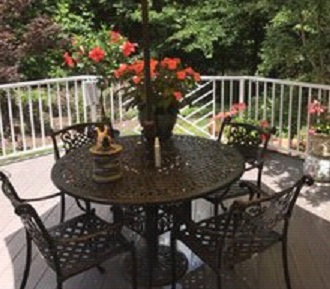 You want to thoroughly wash your wrought iron furniture with mild soap and water. The next step is to apply an automotive spray wax to your wrought iron furniture. You want to do this twice a year. Wrought iron furniture needs to be protected against rust. You remove rust by using medium weight sandpaper, and smooth out the rusted area. The final step is to apply a matching touch up paint that will help guard against rust.
---
Wicker Patio Furniture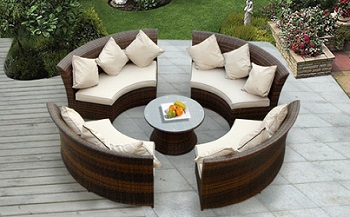 Clean your wicker furniture by scrubbing with mild detergent and rinse with a hose. Bleach and water solutions are good for getting rid of mildew or mold. Paste wax protects against moisture. You can also add polyurethane to protect your wicker furniture. You can add marine varnish directly to unfinished rattan, bamboo or other natural wicker furniture. Fabric seating should be cleaned and stored.
---
Wood Patio Furniture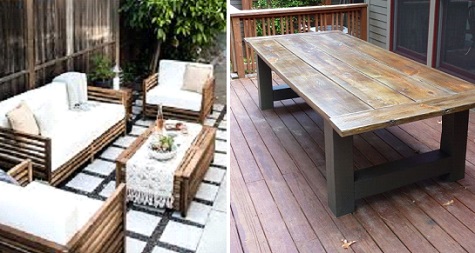 Clean and wash your wood patio furniture and let the wood dry out completely before storing or painting. You can add a clear water repellent or water sealer to protect against mold. Use a paintbrush to apply a generous layer of paint stripper to the furniture. The next step is to use a sealant or varnish on bare wood to prevent mildew. You'll want to add a protective coat of paste wax to protect your wood furniture from the outdoor elements. If you're thinking of painting your wood furniture; sand first before painting your wood furniture. Paint your wood furniture after this. Paint is the strongest protection against elements on your wooden patio furniture. Clean and adding protectors to your outdoor furniture before storing or moving will keep your patio furniture safe.