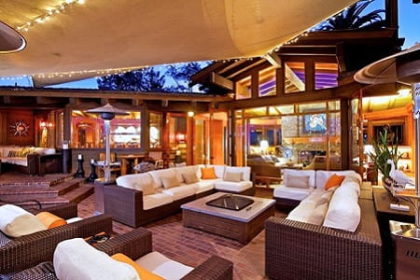 There are many different designs to dress up your patio for relaxing and beauty. Your patio can be perfect for entertaining, or just lounging outside. The word porch originated as a covered gallery or a covered entrance. The porch started in the South by Southern storytelling or family gathering in an outdoor living space. Their motto was for time to stand still for a while. Southern graces were displayed with swings piled with pillows, rows of rocking chairs and glasses filled with sweet tea. The porch can become your second floor living area while enjoying the comforts of outside.
Mediterranean Patios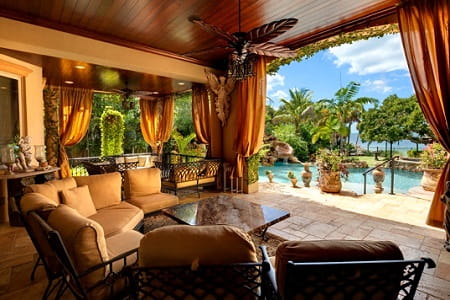 A Mediterranean patio can be an enchanted oasis that reminiscent the blue waters in the Mediterranean Sea. The Mediterranean patio is known for their stone flooring, Moroccan tiles, fire pits in the middle, verandas, and gazebos. Spacious pools are always beautiful next to a Mediterranean patio. Tropical tress, palm trees and tropical plants are perfect landscaping for these patios. Large colorful pots and planters, and wooden trellis set the space for the luxury Mediterranean look. The seating area is usually rectangular with bright colored pillow and cushions. Furniture can be wicker, aluminum or wrought iron. Bright curtains can create the mood for the patio look. Accessories of a kitchen area, grill or waterfall in the patio gives you the luxury look you will enjoy.
---
Mountain or Ranch Patios

A Mountain or Ranch home is trading the city life for landscapes of hills and mountains to a more relaxed and natural environment. Natural stone and dark stone are a must for a mountain or ranch patio. Ranch patio has the wooden or wrought iron furniture to keep the country outdoor look. Earth tones and old world antiques lend to an old Country charm that is so warm and inviting to live with. A hot tub and a fire pit add warmth to the mountain patios. You can relax by the fireplace or roast marshmallows for dessert. Firewood stacked by the fireplace and barnyard doors gives that aesthetic rustic look. Big rugs, quilts, lanterns and oversized pots give you the romantic look of the mountains.
---
Beachfront Patios

You can open your patio to a seaside sophistication. Ocean patios are beautiful with rattan furniture and blue accessories. Big umbrellas, white furniture, hammocks, chaise chairs give the look of a coastal patio. Tropical tress, palm trees and tropical plants are perfect landscaping for these patios. Large colorful pots and planters, and wooden trellis set the space for your coastal patio. Coastal inspired verandas is your vacation away from the indoors.
---
Modern Patios

Modern patios are very straight forward designs with modern furniture. White is the most contemporary color. Very clean and simple look completes the modern patio. Glass doors are very unique to add to the modern patio look. Contemporary art, modern furniture, stone fireplaces and an infinity pool add to the unique look of a contemporary patio. Design savvy with a serene atmosphere will give you the life of contemporary living with cocktails and conversations.
---
Classic Patios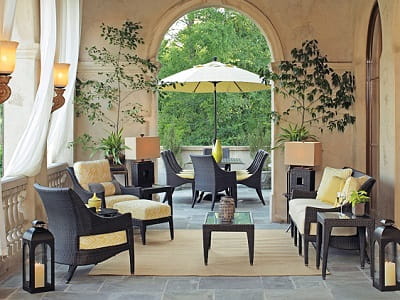 Classic patios are known for casual comfort and elegance with fresh air living. Classic patios have the brick walls with aged stone floors. Rattan furniture with cream color works well with the classic patios. Kitchens and fire pits are very common in these patios. Porch columns, steeply pitched roofs and exposed rafters are your classic patio look. Colorful blooming containers set the garden setting for the patio. Furnishings with interior influence of a rug, sofa and a table complete the classic patio look.
---
Tuscany Patios

Tuscany patios are refined with elegance of authentic Tuscan architectural designs and world charm décor. Tuscany patios have flagstone floors, wooden columns, tiled fountains, and wrought iron furniture and brick walls. Arches are used outside to create a sense of history in fashion of Italy. Bougainvillea's highlight the shape of the arches. Olive trees, white roses, box woods and a fountain create the beautiful Tuscany garden. Red accent pillows, red planters, wrought iron sconces, fireplaces and over-sized furniture complete the Tuscan looks. A winery adds the romance and elegance to your charming romantic Tuscany style patio.
---
Southern Patios

Southern homes are known for their relaxing and beautiful porches. Classic Southern patio with rocking chairs, ceiling fans big swings, and planters with flowers show that classic romantic southern look. Rugs, throw, sofa lamps, white wicker, over-sized pillows and sweet tea are the perfect accessories for a Southern patio. White porch columns and barnyard doors add that extra southern charm look. Your Southern patio will become the gathering place for your family and friends.