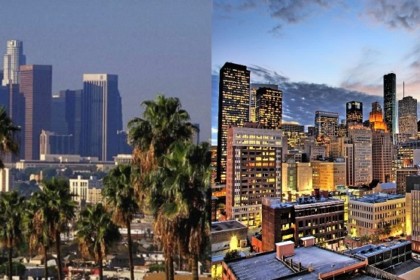 Houston is a much slower pace than Los Angeles California. The inexpensive cost of living, tax breaks, employment opportunities, inexpensive housing, direct flights to almost anywhere, savor cousins of amazing restaurants, trendy shops, diverse cultures, and friendly people are offered in Houston Texas. Southern friendly hospitality mix with an urban chic city keeps Houston life always interesting and exciting!
Cost of Living
The average home cost in Houston is $220,000 vs Los Angeles of $583,000. Average age for someone in Houston to own a house is 37 years old and Los Angeles is 53 years old. Houston unemployment rate is 4.9 vs. Los Angeles 5.5. The average salary for Houston Texas is $59,776 and for Los Angeles is $74,784. The income tax is 8% in Los Angeles and 0% in Houston. The sales tax is 8% in Houston and 9% in Los Angeles. The median age for Houston is 37.1 years old and Los Angeles is 35.6 years old.
Arts Sector
The Theater District downtown Houston offers the Broadway musicals and plays are held at the Hobby Center, Wortham Theater Center, Alley Theater and Miller Outdoor Theater. Houston has 70 amazing Museums. In the Houston Museum District is the Houston Museum of Natural Science, Museum of Fine Arts, Childrens Museum, and Contemporary Arts Museum. Art is everywhere in Houston.
Points of Interest
Houston has the trendy shops in the Galleria and the Montrose Area. Los Angeles has Rodeo Drive which fashions exceed all! Los Angeles has the beautiful beaches, Hollywood and Disney world. Houston Livestock Show and Rodeo is the largest rodeo and livestock event benefiting the youth! The Event runs through February 27th through March 18th. The Rodeo has carnivals, live concerts, wine-tasting, livestock shows, shopping, dining and the traditional trail ride. Houston has a lot to offer from savor cuisines of 10,000 restaurants, world class museums, Broadway musicals, trendy shops, amazing nightlife and the most diverse cultures in the country.