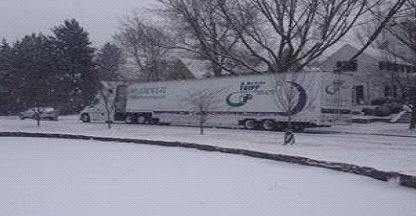 Moving in the winter does not have to make you anxious or concerned when you are prepared. Professional movers and winter tips will definitely make your life easier when moving. You want to choose reputable movers. Reputable Moving Companies have US Dot numbers, TxDMV number and MC number, accredited BBB, and google reviews. Winter is moving companies off-seasons so you should have a wide range of dates available to choose from. Winter rates are also cheaper than summer rates which makes competitive pricing become an advantage for you.
---
Be Prepared for the Cold
You will need to be flexible and constantly check the weather. Weather can shut down roads and shut off utilities. A blizzard coming will also delay a move. You will want to clear snow off by salting or treating sidewalks, walkways and driveways. You will want to check the snowplow schedule and have parking available that not on the plow route. Winter moving needs to be flexible with your moving date. Movers cannot control the weather yet will do their best to deliver your valuables. Professional movers will know how to drive in ice, snow and on high mountains.
---
Inside your Home
You'll want to check your utilities in your old and new home. Space heaters are inexpensive and will help keep your home warm. Professional movers will have floor protectors for your wooden or tile floors. Moving blankets should be used to wrap furniture and keep them safe. Crating should be used for expensive art work, china, or other valuables. You could always offer hot apple cider or hot chocolate for your movers.
---
Pets
Pets on moving day should stay somewhere warm and where they feel secure. Check with Kennels and Boarders for heated runs, heated floors and one or two day discounts.
---
Packing
Winter clothes, emergency first aid kit, flashlights, birth certificates, driver's license, medicine, gloves and hats are great items for you to take personally. You could also pack with you blankets, bottled water, cell phone chargers and road salt. Winter Moving can be stress-free with good planning, organizing and being flexible. Winter moving can be an ideal move no matter if you are moving to the mountains, resorts, city or suburban living.