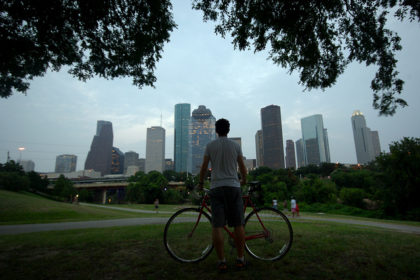 Houston is well on its way to becoming a biking town. BikeHouston, a nonprofit bicycle advocacy organization with a mission to make streets safe and accessible for cyclists, is helping to make that happen.
The group was involved from the start in the newly opened Downtown Park Connector, Houston's first protected bike lane linking Discovery Green to Sam Houston Park via a neon-green two-way path. Now BikeHouston is working with the city to create a Bicycle Master Plan that will set up more bike lanes and improvements for cyclists.
"BikeHouston is uniting cyclists to encourage the transition towards being a top quality bicycle friendly city," says Michael Payne, Executive Director of the group. Find out more about the organization and updates for cyclists: http://www.bikehouston.org.
To get cycling, check out the trails, clubs, rides, rentals, and more below!
 Trails: Local and Beyond
So where do you go for a good ride in Houston and the surrounding areas?
Mary Blitzer, BikeHouston's Manager of Community and Government Relations, says her favorite places to ride are "Montrose, downtown, and the east end—and especially making loops where possible using bayou trails and safe streets."
 Biking along Buffalo Bayou
Here are some other suggestions:
Try the intermediate Anthills bike trail in Terry Hershey Park, a refuge of lovely scenery that runs along the Buffalo Bayou. Nine miles of single dirt track offer some dips that keep things interesting.
The Stephen F. Austin State Park west of Houston provides a fun ride through trees by the Brazos River.
Located in the northern suburbs of Houston, Cypresswood Trails in beautiful Collins Park offer well-maintained bike ways winding along Cypress Creek and through the woods. A great place for riders of different skill levels.
Memorial Park has trails for road and mountain bikers, from beginners to advanced cyclists. Cyclists enjoy the varying terrain and thick woods.
Trail in Memorial Park
Check out paths around Houston and more through this City of Houston link to bikeway information: http://www.houstonbikeways.org/index.php/maps29.
BikeHouston also offers a bicycling map of inner Houston. Go to http://www.bikehouston.org/2015/02/bikehouston-map-now-available/#!form/Goods.
Texas State Parks
The Texas Parks and Wildlife Department provides a guide to mountain biking and road riding throughout the state park system. The guide also includes information about the Rails-to Trails paths, abandoned railroad tracks converted into trails, some of which can be ridden on either thick mountain bike or thin road bike tires. Here's the link: http://tpwd.texas.gov/publications/pwdpubs/media/pwd_bk_k0700_0715.pdf.
Local and State Mountain Biking
MountainBikeTx.com is another good source of information about local and state mountain biking trails, as well as all things mountain biking related. Go to http://www.mountainbiketx.com/texas/trails/index.php.
Local Mountain Biking
Cycling Clubs and Social Bike Rides
 Whether you're a top athlete preparing for a race or want to just pedal around H-town at a leisurely pace, there's a cycling club or ride for you.
Here are some suggestions for riding in good company:
 Clubs
 Space City Cycling Club, sponsored by Bike Barn, supports all cycling levels from competitive cycling to recreation for the whole family. Founded in 1979 with 300 members now, the club offers routine, organized rides on Fridays, Saturdays, and Sundays and events such as guest speakers and social gatherings. Visit them at http://bikebarn.com/articles/home-pg500.htm.
Northwest Cycling Club is a nonprofit that offers education, rides, and philanthropy. Includes road riding, mountain biking, and racing activities. All are welcome to ride before joining. For over 25 years, the group has met every Saturday morning at Zube Park (or sometimes Hockley Community Center). The Saturday numbers range from 75 to over 200 riders, both members and guests, for rides at different paces and distances. Also sponsors other riding events. Check out their website for details: http://www.northwestcyclingclub.com.
Greater Houston Off Road Biking Association (GHORBA) offers organized rides, skill clinics, races, and other fun events. The group is also involved in expanding and maintaining mountain bike trails in the Houston area. Check them out at http://ghorba.org.
Enjoy the Ride with Other Cyclists
 Rides
BikeHouston Bayou Ride. BikeHouston advisory board member Michael Skelly guides this 2- to 3-hour educational ride through the scenic bayou areas of Houston. Moderate pace with stops; 60% of the ride is on paved areas. Fatter tires suggested. The group meets at Market Square by Niko Niko's the first Sunday of every month at 8am. Check it out, along with other events, at http://www.bikehouston.org/bikehoustoncalendar.
Karbach Brews Cruise. Dedicated to "craft beer, bikes, and good people," the Brews Cruise offers a bar-hopping bike ride on the first Monday of every month. The ride starts at a different bar each time, makes another bar stop, heads to the Karbach Brewing Company, and returns to the first bar. http://www.karbachbrewing.com/tours/brews-cruise.
Midnight Ramble. You may also want to look into BikeHouston's own Midnight Ramble, an annual charity ride that has been a Houston tradition since 1973. Find out more about the ride that kicks off right before midnight: http://www.bikehouston.org/moonlightramble.
Other Rides. BikeHouston has a list of regular weekly rides sponsored by different groups. Check out the possibilities: http://www.bikehouston.org/weekly-rides-beta.
Bike Rentals
 Operated by the nonprofit Houston Bike Share, Houston B-Cycle is a bike sharing program that offers a quick way to get around the city. BikeHouston was one of the founding sponsors of the program.
Here's how B-Cycle works: Riders check out a bike for an hour or longer at unattended stations and return the bike to the same location or another station. By 2017, the B-Cycle program is anticipated to have 1,000 bikes and 100 stations around Houston. Find out more by clicking on https://houston.bcycle.com.
More suggestions? Below are companies that also offer bike rental services:
Bike Barn sells bikes and offers rentals. 713-529-9002. 5339 Weslayan St., Houston, TX 77005 plus other locations. Find out more: http://Bikebarn.com.
Houston Cycling Centres provides bike services, sales, and rentals. 713-777-5333. 6607 South Braeswood, Houston, TX 77096 and other locations. Check them out: http://northwestcyclery.com.
West End Bicycles rents, sells, and services bikes. 713-861-2271. 5427 Blossom, Houston, TX 77007. http://www.westendbikes.com.