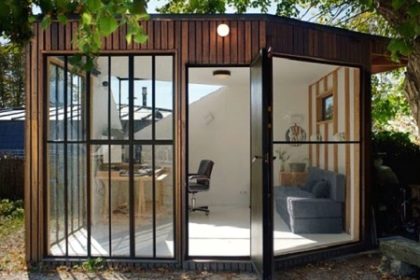 People are working more at home especially with the COVID-19. Backyard Offices are the great escape from the home and gives you the creativity you need for work. You want your backyard office to be comfortable and functional. Location for the office space should be an area that lacks intense sun exposure. Direct sun is not good for the longevity of electronic devices. Lighting and ceiling fans are important overheads for an office. In early morning or late afternoon direct sun exposure can be intense and cause glare on your monitor screen. Bamboo shades or operated screen shades are designed to cover large view windows from the sun. Outdoor office floors are best paved with poured concrete with a smooth or even polished finish or wooden tile floors. You want office chairs to be able to roll around. You want power for your cable, and desk lighting. The wireless internet needs to be strong too for your computer.
---
Organize your Office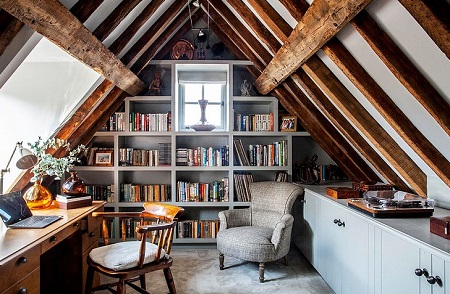 The first thing you want to do is sort through your office papers and office materials. Purge paper and de-clutter your file cabinets in order to become more productive. You want to have a filing system with filing racks or a filing cabinet. Fireproof file cabinets can help keep your important papers stay safe. Color code your filing system and label all your filing. An In box helps your prioritize what needs to be done first. A mail station for incoming and outgoing mail will help with the paper clutter and a print station set up will keep all your printed materials together. A trash can and a shredder eliminates all the unwanted and unnecessary paper. Glass jars and other containers help hold office supplies. Drop down desks are great for small offices. You also want a desk cabinet that will conceal cords. Discard old electronic equipment and cords you no longer need or use. Book shelves are great for displays and storage for books.
---
Moving
A master plan design of your new office will help you vision your new office space. A moving checklist is great way to help you become organized for your move. Donate books that you will never use to friends or local libraries. Books do take a lot of room to pack. Shred documents that are no longer relevant to you for you do not want anyone to receive your personal information. Back up crucial work files and documents to an external hard drive or a cloud-based storage service. Take your birth certificates, medical records school records, social security numbers, marriage certificate pass ports, medicine and other important legal documents with you. If you pack your own boxes make sure you label all the boxes. Take pictures of how your cords and electronic equipment was set up and use color stickers to designate which is which. Remove ink cartridges from your printer. The more you organize and label the smoother the move will be.
---
Design your Backyard Office
Designing your home office can be a lot of fun. A floor plan is needed to place your office furniture, electronics and bookcases in your new office. You want your office to be functional and updated. You can use specialized software to create a floor plan before you move in. You can go paperless by documenting all on your computer or I phone. You will want to decide on your office furniture, rugs, lighting and artwork for our new office space.
---
Shed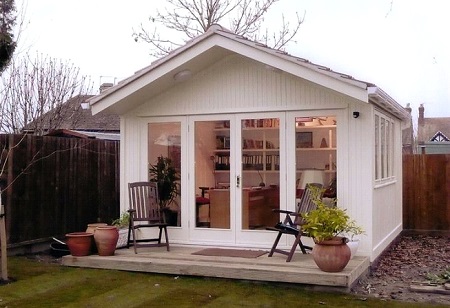 A shed can be reconstructed to an outdoor office by redoing the floors, painting the walls and replacing windows. You can add new electrical and lighting receptacles. Antique glass panes, furnishings of a wooden desk, and the perfect desk chair add charm to the office. Extensive storage and personal décor will give your office the character it needs.
---
Contemporary Retreat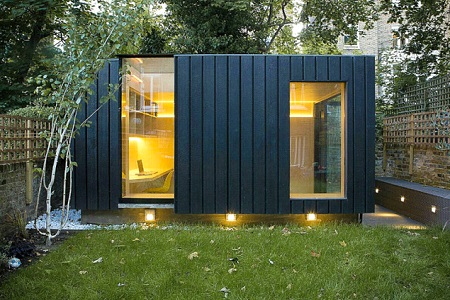 A concrete building outside your home with bright colors and a flat roof create the illusion of an updated office. Modern furnishings and art work add to the contemporary look of the office. Smart office technology is fun to have in your office too.
---
Barn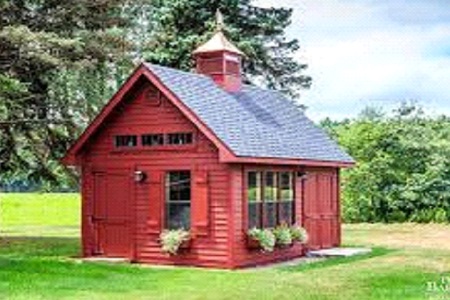 An office can be created by renovating a barn on your property. Stucco added to the sides and red paint would make the exterior have that rustic look. Shutters, wooden beams, wooden desk, rustic art work, and wooden shelves add charm to the barn office.
---
Open Glass Office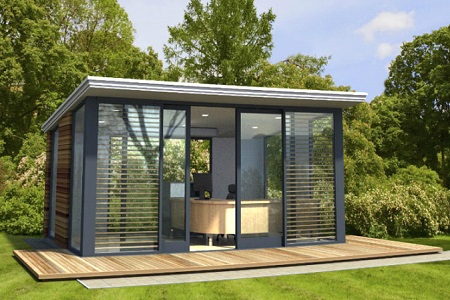 An open glass office creates atmosphere of having nature in your office. You want to have good shades for intense sunlight. Contemporary furniture, floating shelves and abstract art would enhance the beautiful glass office. An outdoor office can be fun and exciting to design and rewarding to work in.