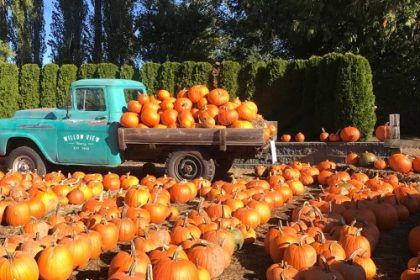 Pumpkin patches are the perfect time to take your favorite fall photos, eat your favorite fall foods, pick the perfect pumpkin and have your kids run around and have fun! Houston Pumpkin Patches are so much fun and diversified in activities such as Hayrides, pumpkin patches, corn mazes, flower picking and pony rides.
---
Dewberry Farm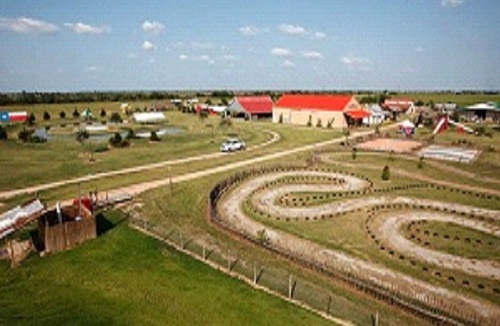 Dewberry Farm is in Brookshire and is open September 24th through November13th. . They have 8 acres of a corn maze, hayrides, train rides, pony rides, roller slides, pedal kart tracks, barnyard, pig races and 500 lighted pumpkins.. Fall Seasons Special Events include;
October 1:  Jon Couch
October 8:  To be Announced
October 15: Wes Nickson
October 22: Colton Black
October 29: Colton Black
October 29 & 30:  Trick or Treating, Costume Contests and more.  
November 5 & 6: Teacher & Nurse Appreciation Weekend.  Free admission with valid ID.
November 12:  2nd Annual Beer Fest 
November 12 & 13: Military, Veteran & First Responder Appreciation Weekend.  Free admission with valid ID.
There wonderful food is, turkey legs, hamburgers, cheeseburgers, kettle corn, tacos, corn on the cob, sausage with tortillas, chicken nuggets fried cheesecake, fried Oreos, and funnel cakes,. General admission stars at $34.95to $41.95 with Fun Fridays for ages 3 at $19.95 to $21.95.They have twilight prices of $18.95 to $19.95 after 6:30 and Season passes of $64.95. On line tickets are cheaper than at the gate tickets. . https://dewberryfarm.com/
---
Oil Ranch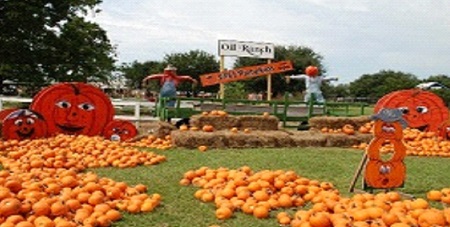 Oil Ranch has a Pumpkin Patch Houston and Scarecrow Festival is through October of 55 acres of family entertainment. They offer hay rides, train rides, pony rides scarecrow scenes of over 85 different scarecrows, and thousands of pumpkins. Other activities include a 2800 square ft. jumping pillow, Tumbleweed Racers, fishing, paddle boats Stockyard Maze, Animal farm, and a petting zoo. The Festival has been going on for more than 20 years and has the perfect photo opportunities! https://www.oilranch.com/.
---
Old Time Christmas Tree Farm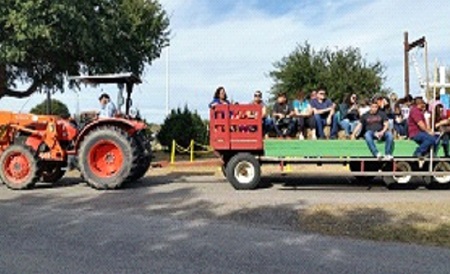 Old Time Christmas Tree Farm is open from Fridays through Sundays in October. Admission is $10.00 per person. Old Christmas Tree is an Autumn wonderland that includes bounce houses, pumpkins, hay rides, train rides, petting zoo and food trucks. Festival fall food is BBQ, with a sweet zone of funnel cakes and shaved ice. Hours are Friday 4 to 7 and Saturday and Sunday 10 to 7. https://www.oldtimechristmastree.com/
---
7 Acre Wood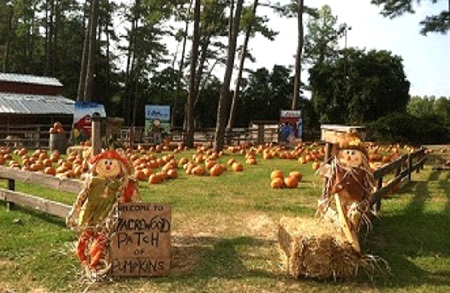 7 Acre Wood is in the Woodlands is a 7 ½ acre family fun park with a petting zoo, western play town, huge playground, rope slide, $5 pony rides, barrel express rides, miniature golf, and hayrides. The cost is $8.50 per person. Hours are Saturday 9 to 5 and Sunday 12-5. They are located 4401 North Frazier Conroe, Texas. https://7acrewood.org/
---
Houston Boo Zoo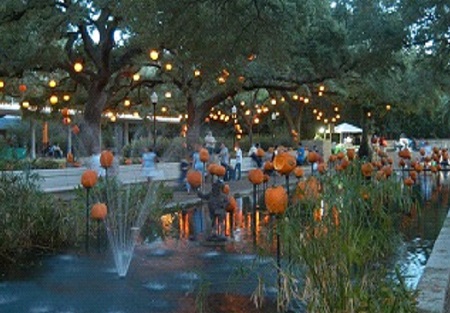 Houston Zoo Boo is at the Houston Zoo. Zoo Boo has Scary-Go-Around-Wildlife Carousel, Spooky Train, and beautiful Carved Pumpkins. Harvest Barn Photo Ops has more than ten different Instagram-able photo options throughout the zoo. Special Animal Enrichment happenings are on the weekends. They will have Zoo Boo after hours on Fridays in October, They are extending the zoo hours till 8:30 p.m. The new events this year are the Glowing lights in the Bug House, spooky themed lights in African Forest and interactive dance floor inside the John P McGovern Children's Zoo during Zoo Boo after hours. The events are available from October 1st through October 31st. Celebrate Halloween at the Houston Zoo. https://www.houstonzoo.org/
---
Blessington Farm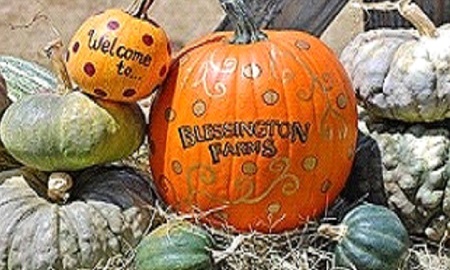 Blessington Farm is located at 510 Chisolm Trail in Wallis Texas. They are opened from September11th through November 21st from 9 to 4 on Saturdays and Sundays. The cost is $24 per person. They have a pumpkin patches, Gem mining, Trolley hayrides, fossil dig, rope maze, barrel train rides, pedal cars and animal encounters. https://blessingtonfarms.com/
---
P6 Farms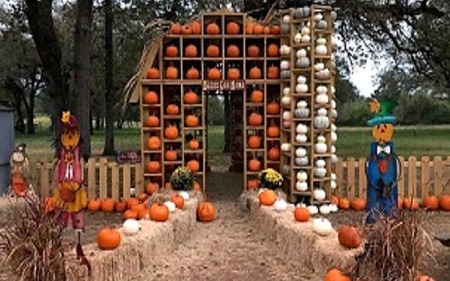 P6 Farms is located in Montgomery Texas. They are opened from October 1, 2022 through November6th .from 10-7. . This farm has numerous attractions such as the pig race show, photo booths, pumpkin patches, corn maze, farm animals, cow train, apple blasters wheelbarrow races, Tire Mountain, mini coasters, Ferris wheel land hay bale maze and numerous flower fields. Food offered is BBQ sandwiches, kettle corn, pumpkin donuts and lemonade. https://www.p-6farms.com/
---
Vintage Park Shopping Village Center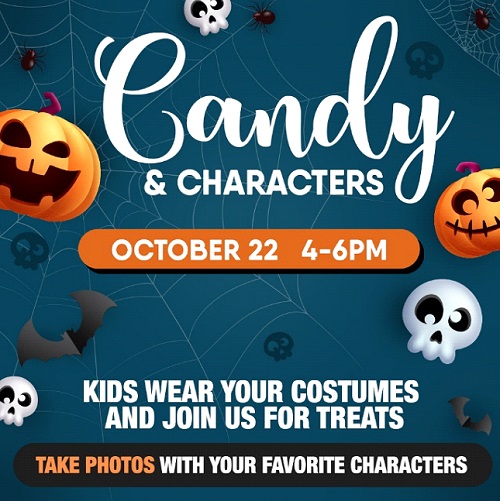 Vintage Park Shopping Village Center in Cypress Texas has Candy and Character Day for the Kids to dress up in their costumes and meet their favorite characters in the Vintage Shopping area. The date is October 22nd from 4 to 6:00. They host live music from 7 to 10 p.m. You can shop dine and be treat! #CandyAndCharacters #October #Saturday #Treats #VintagePark