2007-2009 BBB Award For Excellence
2007, 2008 & 2009 Award For Excellence – Winner of Distinction
Houston's premier moving and storage company has achieved one of its greatest honors to date: the Better Business Bureau's Award for Excellence.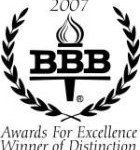 May 3, 2007, HOUSTON, TX – On May 2, over 500 business leaders attended the 2007 Awards for Excellence event held at the InterContinental Houston hotel. It was the 15th year of the BBB tradition. Exemplary BBB member companies, including A Better Tripp, were honored for maintaining a superior commitment to ethics, overall excellence, and quality in the workplace. This is the first time A Better Tripp has been honored with an Award of Distinction. A Better Tripp won the BBB Gold Star Award in 2002, 2003, and 2006.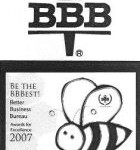 Year-round, The Better Business Bureau recognizes commendable businesses in the community and helps consumers know who to trust and patronize. A Better Tripp was given an Honor of Distinction in the company of fellow distinguished honorees such as the Houston Dynamo soccer team and Wells Fargo banks. Masters of ceremony Hudson and Harrigan of 100.3 KILT radio entertained the crowd during the awards ceremony, while all proceeds from the event went to benefit the BBB Education Foundation.
More Reliable Than Your Average Moving Company
A Better Tripp is said to have earned these honors specifically for its consistent ethics, industry and community betterment, sales and marketing integrity, and going above and beyond the contract.
What does this new distinction mean for the average consumer? With such high regards from the BBB, A Better Tripp is guaranteed to offer supreme service and support. Customers can relax on moving day, knowing that a locally and nationally recognized, respected, and reliable moving company is getting the job done.
Satisfied Customers Abound
Says Wintress Odom, who hired A Better Tripp to move her entire houseful of belongings: "I am so proud of David and A Better Tripp for winning this honor. Their service was efficient yet careful, and they respected both me and my belongings. I would absolutely use A Better Tripp again. They most definitely deserve this BBB award."
A Better Tripp is passionately and dedicatedly run by founder David Tripp. Tripp relies on 16 years of experience in the moving industry, as well as his own devotion to excellence and professional drive, to run a world-class moving and storage business that moves folks across town or all across the nation.
The Source of the Success
The heart of the business is the people who actually do the heavy lifting. David Tripp proudly describes his staff: "The A Better Tripp team is comprised of a contingent of enthusiastic, resourceful, gentle, and well-trained moving experts who know how to move even the most precious and delicate of items. They are always bonded and insured, and they know the intricacies of moving even the most fragile piece of art. My team members are the ones who really helped earn us this award."
A Better Tripp is a member of the Better Business Bureau, the Houston Apartment Association, the Southwest Movers Association, and the American Moving and Storage Association, Inc.
For more information about A Better Tripp Moving & Storage, Co, Inc., contact David Tripp at (713) 266-8348 / Toll Free: (877) 266-8348 / Fax: (713) 688-5559 or visit them online at www.abettertripp.com.
If you would like to learn more about the Better Business Bureau and the Award for Excellence, visit www.bbb.com, or for the Houston chapter, visit www.bbbhou.org.