As one of the biggest metropolises in the country, Houston lives up to its "big-boy" status in many ways, including its 360 soaring skyscrapers that dot the skies not only in downtown but also throughout other parts of the city.
There's Williams Tower in the Galleria, special not only for its towering height but also for its famous water wall. The Galleria area also boasts the Marathon Oil Tower only a few miles away. Downtown is dominated by several beautiful buildings; the Wedge International Tower, JP Morgan Chase Tower, and Heritage Plaza to name just a few.
However, for those who don't get their kicks from sky gazing – and straining their necks in the process- the Bayou City can offer a few other interesting, even wacky feats of architecture if only you know where to look.
Here's where to look. The Penguin Arms, 2902 Revere St.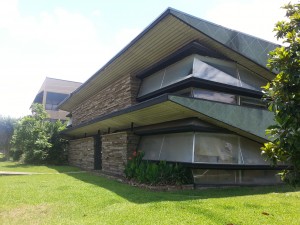 When you first take notice of this two-story, six-unit apartment complex, you might not be able to imagine people ever lived there considering its resemblance to a multi-layered stack of flattened pancakes about to jettison off into space – but that's just an opinion.
Technically, the Penguin Arms, which was designed by Arthur Moss, was built in the 1950s and is, according to those in the know, one of America's last examples of Googie architecture, or as the Houston Chronicle calls it, "the whacked-out, anything-goes style of mid-century exuberance."
For the record, the term "Googie" was coined by an architecture professor in honor of a weird and wonderful Los Angeles eatery.
But be it apartment-in-space-style architecture or just plain crazy, either way the Penguin Arms is fun roadside-viewing fare. Hop on over and take a look before it launches off or someone checks it into the loony bin.
The Hole House, 1953 Montrose Blvd.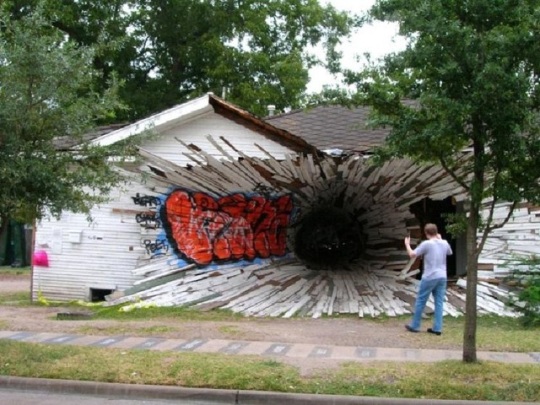 Though no longer in existence after being demolished a few years ago, the Hole House deserves a mention. The house was the product of two homes that were transformed into a temporary art exhibit by Houston artists Dan Havel and Dean Ruck, and the end result was simply out there. The gone-but-not-forgotten art piece which features what can only be described as a vortex-looking-suck-you-into-its-depths-never-let-you-go feature that has to be seen to be believed.
Sadly, it's to be seen no more. Or maybe the entire house was just sucked into itself. It could happen.
Chong Hua Sheng Mu Gong Holy Palace, 3695 Overture Drive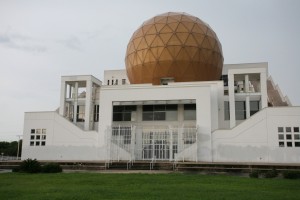 There's a mouthful of a name for ya, but one look at this place and you'll see its name fits – if not a little too well.
This gold-domed behemoth sits smack dab in the middle of suburban West Houston in stark contrast to the other buildings in the neighborhood . Originally intended as the centerpiece of a Taoist spiritual compound for a group based out of Hong Kong, the Holy Palace was to be part of a larger religious complex called Tien Tao. However, construction stalled on the remainder of the buildings when the US government wouldn't allow the group's leader to come back into the country after a trip overseas in 2001. No reentry for the top dog meant no more building on the compound. The remaining structure was never torn down but merely abandoned to the elements.
La Luz del Mundo Church, 8312 Eastex Freeway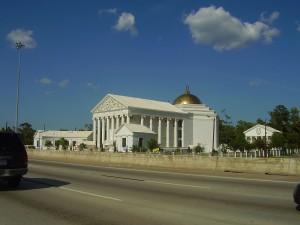 This white-washed church – which is home to the Houston branch of a Christian sect based in Guadalajara, Mexico – is supposedly inspired by Grego-Roman architecture.  Like the unique religion-themed building above, La Luz del Mundo comes complete with a gold dome. The requisite row of columns adoring the front and sides of the structure, this church – which can accommodate 4,500 worshippers – is surely not to be missed. Of course, with the Biblical scenes carved into the front of the building; stained glass windows; and an outside sitting area enclosed in 14 free-standing columns, I'm sure being spotted was the point.
Mission accomplished!
The Rothko Chapel, 1409 Sul Ross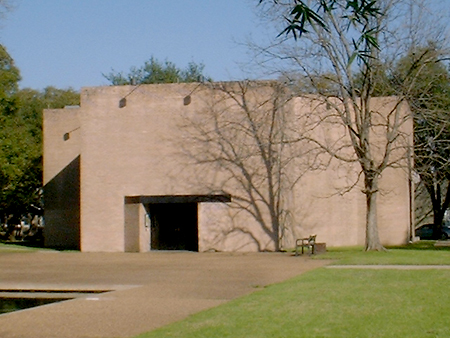 This tiny chapel and its 14 interior black and color-hued paintings are a nod to modern art, a sacred place of worship for people of all faiths – or no faith at all – a nationally registered building, and…an octagon built inside a Greek cross.
Yep.
What's more, this unique little place sits in the middle of a lush residential area with a decidedly hipster vibe. In other words, it fits right into the neighborhood. Outside the chapel – which was founded and commissioned by art connoisseurs John and Dominique de Menil and completed in 1971 – stands a sculpture called "Broken Obelisk" by Barnett Newman. The piece, having once been displayed in Washington D.C, now sits in a small reflecting pool and is dedicated to Martin Luther King, Jr.
What's coolest about this little space is that, if you look through the slight crack between the entrance's two double doors you'll have a direct and unobstructed view of the obelisk standing in front. In fact, the whole of the sculpture can be seen through that tiny crack between the two doors. However, when asked if the building and sculpture were designed to have this effect, one will find the answer is no.  Instead, it's just one of those crazy cool, yet completely accidental elements of yet another piece of Houston's collection of weird, wild, and wonderful architecture.