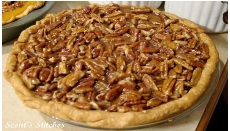 Pecan Pie
1 cup dark brown sugar
1/3 teaspoon salt
1 cup light corn syrup
1 1/3 cup melted butter
3 eggs, well beaten 1 tsp vanilla
1 1/2 cups pecan halves
Pie crust
Mix sugar, syrup and melted butter. Add eggs vanilla and pecans. Fill unbaked shell with mixture. Wrap foil around the edge of pie crust to keep from burning. Bake for 10 minutes for 400 degrees. Then 350 degrees for 30 to 35 minutes. Top with cool whip.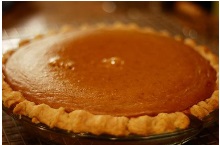 Pumpkin Pie
2 ½ cups canned pumpkin
1 1/8 cups sugar
½ tsp ground cinnamon
3/4 tsp salt
5 tsp pumpkin spice
4 eggs, slightly beaten eggs
2 cups of whole milk
1 cup evaporated milk
2 unbaked pie crusts
3 tablespoons pecans chopped
Using rotary beater, add beaten eggs, combine pumpkin, sugar slat and spices. Mix these thoroughly and add to eggs. Add milk and evaporated mile. Blend Pour into unbaked shell. You can sprinkle pecans before baking. Bake in hot oven at 400 degrees for50 to 60 minutes.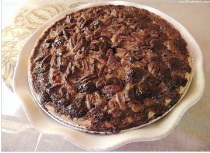 Chocolate Chunk Pecan Pie
1 ½ cup flour
Salt
4 tbsp. butter
1 stick butter
3 large eggs a large egg white
1 large egg white
1 1/3 c chopped pecans
4 oz. melted semi-sweet chocolate
1 cup sugar ¾ cup karo syrup
1 tsp. vanilla
Preheat oven to 350 degrees. Mix pecans and chocolate in a small bowl. In another bowl whisk in melted butter, corn syrup, vanilla and ¼ tsp slat. Bake for an hour at 350 degrees.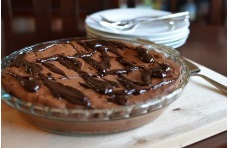 Chocolate Brownie Pie
1 2oz. unsweetened chocolate squares
2 tablespoons butter
3 eggs
½ cup sugar
¾ cup dark corn syrup
¾ cup pecan halves
Pie crust
Melt unsweetened chocolate and butter together over hot water. Beat eggs, sugar, chocolate mixture and corn syrup with a rotary beater. Mix in the pecan halves. Pour mixture into pie crust. Bake at 375 for 40 to 50 minutes. Drizzle hot chocolate over pie when cooled.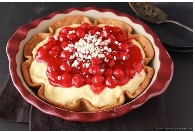 Cheery–O Cream Cheese Pie
1 9 inch baked pastry shell
1 8 oz. Cream cheese
1 15 oz. can of sweet condensed milk
1/3 cup lemon juice
1 teaspoon vanilla
1 6 oz. can prepared cherry filling
Let cream softened to room temperature. Whip until fluffy. Gradually add the condensed milk while continuing to beat until well blended. Add lemon juice and vanilla. Blend well. Pour into crust. Chill 2 to 3 hours before garnishing with cherry pie filling.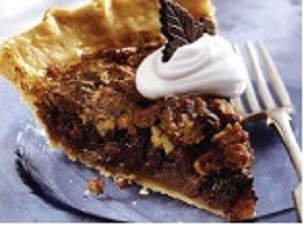 Bourbon Pecan Pie
1 stick unsalted butter at room temperature
1 cup sugar
2 large eggs lightly beaten
½ cup all purposed flour
2 tbsp. Bourbon
1/8 tsp salt
1 cup chopped pecans
1 cup semisweet chocolate chips
Beat butter and sugar until well blended. Add eggs, flour Bourbon and salt and beat to for 1 minute. Fold in pecans and chocolate chips. Pour into baked pie crust for 30 to 35 minutes at 350 degrees. Top with cool whip and chocolate.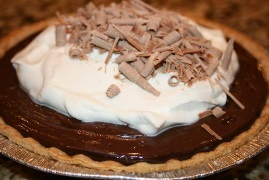 Mocha Cream Pie
Graham cracker crust
½ cup sugar
½ cup semi-sweet chocolate chips
¼ cup cornstarch
2 large egg yolks
2 cups half and half ½ cup brewed coffee
1 cup heavy cream
Place chocolate chips in a bowl. Mix together cornstarch, egg yolks, ½ cup sugar, and ¼ teaspoon of salt in a medium sauce pan. Whisk in half and half and coffee. Cook over medium low heat, whisking constantly until thickened for 6 to 8 minutes. Strain over chocolate chips. Transfer mixture in a cooled crust. Chill for 4 hours. Add whip cream and shaved chocolate.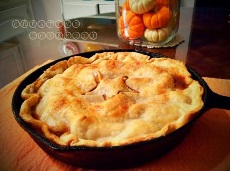 Skillet Apple Pie
5 green apples peeled and carved
1 cup white sugar
1 tsp cinnamon
½ tsp nutmeg
¼ cup white sugar
1 tablespoons of butter
1 cup brown sugar
3- 9 inch refrigerated pre rolled pie crusts
Preheat oven to 350 degrees. Place ½ cup butter into a heavy cast iron skillet and melt butter in the oven. Remove skillet and sprinkle brown sugar return to heat while you prepare the apples Remove skillet and place 1 refrigerated pie crust on top of the brown sugar. Top the pie crust with half the sliced apples. Sprinkle apples with ½ cup of sugar and 1 teaspoon of cinnamon. Place a second crust over the apples, top the second crust with the remaining apples and sprinkle ½ cup of sugar and 1 tsp cinnamon. Top with the third crust, sprinkle the top crust with ¼ cup sugar and dot with 1 tablespoon of butter. Cut slits into the crust for steam. Bake in the oven for 350 degrees for 45 minutes or until the crust is golden brown.