Did you recently move to Houston with a canine friend in tow?  Then help your pup explore his new city in one of our excellent dog-friendly parks.  Here's a sample of some of the best dog parks that Houston has to offer.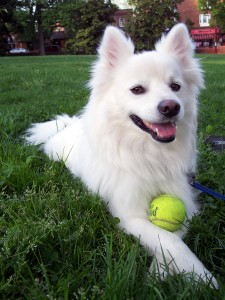 12303 Sonnier Street Houston, TX 77044
This Lake Houston area park features easy parking, trails, and separate areas for large and small breeds with plenty of water for playing. As you can tell from the map, a lot of thought went into the layout of this park.  Check it out in person!
18103 Cypress Trace, Houston, TX 77090
This huge park in Northwest Houston includes over 30 acres of family fun. Not only is there room to roam — there's ample walking path space, playground areas, and dog areas for both large and small breeds.  The dog parks are located in the West park, but the East park also has walking trails.
3201 State Highway 6 North Houston, TX 77084
This huge park is located just a short drive west of Houston.  You and your best friend will love the dog agility course, dog pond, and dog showers.  Older dogs might prefer a leisurely stroll on the large-dog-granite trail and small-dog-granite trail. With all of these great amenities your dog is sure to meet lots of friends.
1501 W Webster St. Houston, TX 77019
If you need a smaller area to let your dog run free, then this Midtown dog park is the place for you. This is a quant fenced-in area ~5,000 sq. ft.; however, it still has an area just for smaller breeds to enjoy. There is water available for washing and drinking on site.  For those of you living inside the loop, West Webster is a convenient place for your dog to get a little exercise and meet some new friends.
Looking for more Houston area dog parks?  This website has a great list.  So grab your keys and your leash and start exploring!