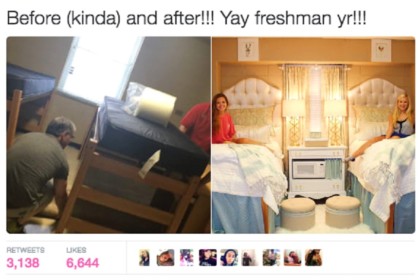 Some dorm moving tips for a parent and their college student at an exciting time in their life. Start with measurements of dorm living space, bed sizes, along with a sketch of what goes where and a list of what is needed and what would be nice to bring; be sure to check as to what is allowed. Check online for college dorm room decor ideas. For example, fabric headboards might add that perfect chic look for your room.
Bedding: shams, decorative pillows, sleeping pillows, fit sheets, top sheets, mattress pad, and quilts. Bright colors and fun patterns will help liven up the room. Layering quilts or throws are great to keep you warm if the dorm is too cold. Consider elevating the bed with risers for storage containers and use colorful bed skirts to hide containers.
Furniture: decide on what you want to add to what is provided such as nightstand or TV stand, which may be inexpensively purchased from resale shops and decorated to match your decor. Painting and decorative hardware will spruce up your furniture decor. Consider a futon for seating, if space is available along with accent cushions.
Electronics: computer and printer are essential and perhaps a TV.
Appliances: coffee maker, microwave or even a mini fridge
Lighting is critical: desk lamp and/or a floor lamp and even adding Christmas lights is fun.
Decorating ideas. Curtains with different textiles and colors can add the wow effect. Use shower curtain rods to hang curtains. You can even ad shutters for a warmer effect. Soft Rugs keep the floor warm and cozy. Fun Art and Monogramming add that special touch!
Organization: use a closet rod extender to help with hanging garments along with a shoe rack for shoe storage. Decorative baskets, hat boxes and containers help organize your accessories. Bath supplies can be stored in a cabinet with a curtain. Bath towels can be hung on a towel rack in the closet. Bulletin Boards with a calendar help keep you organized.