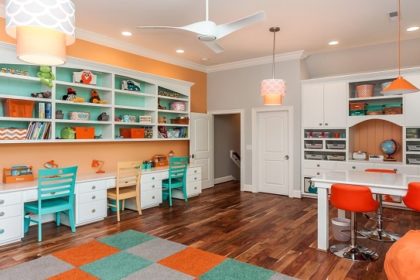 Its time to make your kids study room fun and exciting by adding a change of scenery. You want to create an atmosphere that is exciting for inspiration, organized to reduce distractions and secluded enough for them to focus. You and your kids can determine your décor for their room and start having fun and decorate. You want to look at color, furniture, lighting, organization and personalization for your study room you are creating. Locations is important to determine how they learn and are able to focus. Calendars and peg boards are great to teach them how to organize and plan. Personalization of what they like and will motivate them to be in that room. Here are some example of different kids study rooms.
---
Contemporary Study Room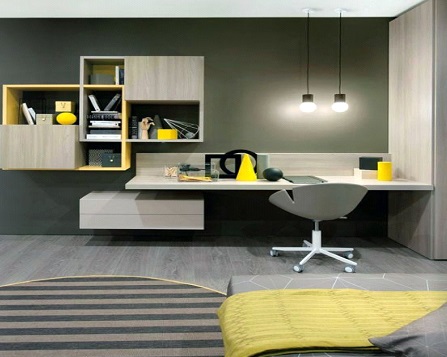 Contemporary study rooms can be decorated with bright colors and modern technology. Contemporary desk furniture, Modern sofas and modern desk chairs are fun to add to the room. Abstract art, glass doors, floating shelves, bright color rugs and pendant lighting gives the room that modern look. Smart home functions of smart speaker, smart lighting, smart thermostat, smart notepad and pen would be the added touches to this room. A teenager would love to occupy this study room.
---
Rustic Study Room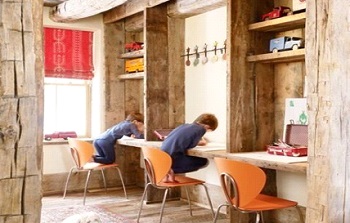 Decorated with wooden desks, chalkboards, study nook, and family photos. Barn doors, wooden shutters and wooden floor would add to the décor of a rustic study room. Peg boards are great for hanging their art work or calendars. Wooden seating areas with pillows are great for reading and wooden crates are great for storage. Over-sized rugs add warmth to the room. Farm pictures and fresh flowers gives the rustic room the feeling of being on a farm.
---
Sports Study Room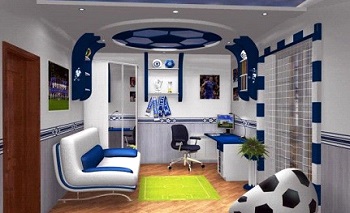 Great for inspirational. The sport they love can be included with the décor of furniture, lighting, sports photos and their trophies. Sports books and sport poster help motivate them to read and work on their sport. A rock wall would be great for a break from studying. Bean chairs can come in all sports and are great for a reading break too. Bright colors keep them intrigued to learn and active.
---
Glamour Study Room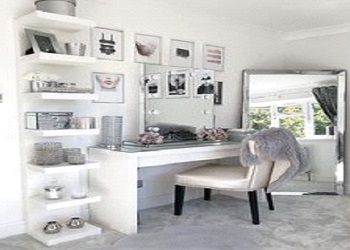 This would have fur rugs, fur blankets, and fur chairs. Chandeliers and mirrors add elegance to the room. If you want more ambiance for the room add glass shelves and silver frames. White and Silver give you the Hollywood look. Oversized hat boxes are great for storage and lacy curtains add to the glamour of the room. This study room is a dream for a girl.
---
Theme Study Room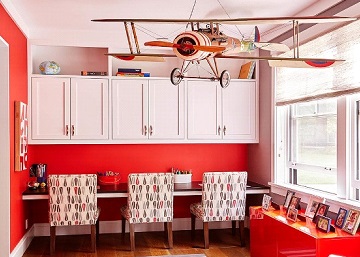 Themes are so much fun to add to a study room. Your child could have from Disney to a hobby they love .Legos, Space, Airplanes, cars, flowers etc. can add excitement to the room. Bright Colors and theme décor add the essence to the room.
---
Reading Nooks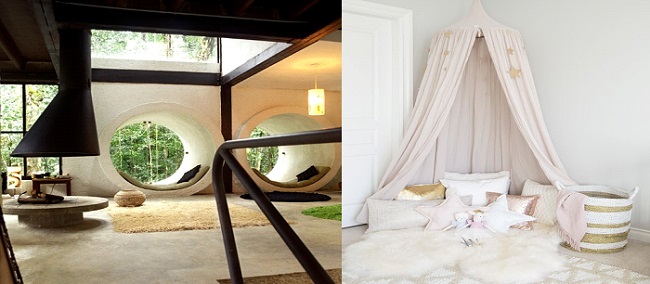 You just need a comfy place for your child to escape the world and read their books. This is a great place for our child to have down time and explore books. Hanging chairs, view of outside or just a quiet place for your kids to enjoy their time. Kids can learn anywhere they feel safe and happy.
---