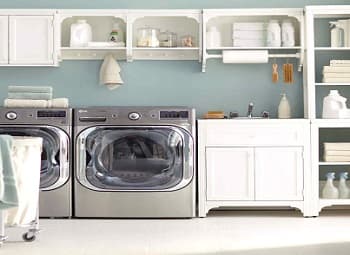 Moving and Cleaning your Utility Room
When moving your utility room you want to disconnect your washer and dryer. You will want to clean your washer to get rid of dirt and buildup of detergent. You should clean your washing machine once a month. If you have a top loader, choose the clean cycle and use white vinegar in the bleach dispenser to clean the washer. A front loader is to be cleaned by choosing the hottest water temperature and longest cycle mixed with 4 cups of White Vinegar and 1 cup of bleach and run the cycle. A microfiber cloth with vinegar will clean the gasket that seals the door, soap dispensers and controls for both machines. Dryers can be cleaned by using soapy water to wipe down the drum, use dry cloth leave door open till dry. A vinegar spray bottle will eliminate orders in your dryer. Disconnect your dryer, washer and extra fridge before moving. Your extra fridge should be defrosted, cleaned out and disconnected. Hazardous material, perishable foods, and chemicals are not allowed for movers to take with them. You want to label all your boxes and be organized.
---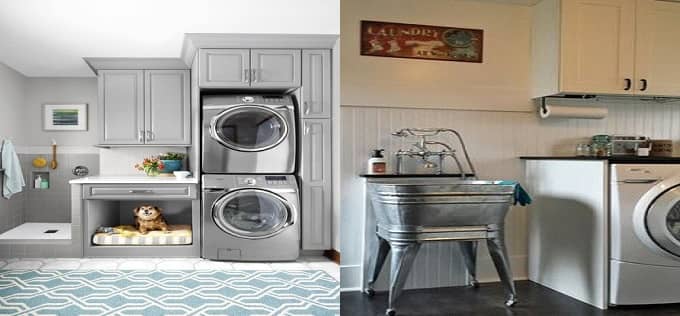 Designing Your Utility Room
Make sure your utility room has a floor drain, good ventilation, bright lighting, and fire extinguisher. Blue, Grey and white are the best color hues for a utility room. Basins, Antiques and silver accessories add that extra décor to your washing machine. Utilize your space to be functional for your Utility room. You can have an antique to a modern utility room.
---
Utilization of your Utility Room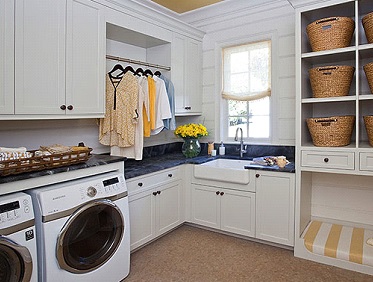 Hanging Areas are great to hang your clothes for drying. Iron spaces are also excellent to iron the clothes right out of the dryer. A hanging area and iron area will save you hours of organizing and dry cleaning. If you have enough room, you can have a peg wall for your broom and mop. A shelf for cleaning supplies will help to organize the supplies. Baskets, sorting bins and cloth bins are great way to organize our dirty and clean clothes.

Desks would be excellent to paying bills, organizing mail, web surfing and making appointments. Bulletin Boards are great to keep up with appointments, kids activities and social engagements. Wrapping areas and hobby areas can be placed in utility rooms.
---
Sinks help wash out that extra dirty spots. Sinks also help keep the utility room clean. Clear jars labeled will add to the organization. You can choose between drop in sinks, wall mount sinks, under mount sinks and deep sinks. Sinks can be made out of stainless steel cast iron, fire clay or composite. You need to determine your style and usage of your utility sink of which sink to buy.
---
Mud Room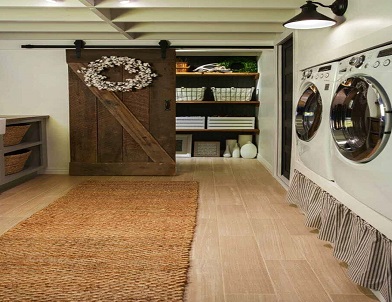 A mud room is a great addition to your utility room if you have enough space. Backpacks, extra shoes, sports uniforms, umbrellas, rain boots and coats are help with the organization of your home. Bins, hooks, shelves and hanging areas are great to help organize your space for your personal items. Mud rooms' styles can be rustic, contemporary, traditional, farmhouse, family or trendy. Determining your style and usage will help you choose the right mud room for you. Planning and organizing your utility room will help keep you organize and save you time.