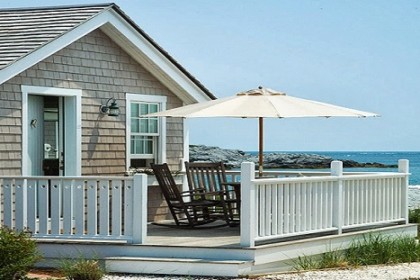 Moving to the coastal areas can be very intrigued by the gorgeous ocean scenery and the mesmerized sounds of the waves. You may not imagine living anywhere else. You can enjoy the beautiful sunsets and sun rises, collecting of pretty unique shells and seeing beautiful dolphins and whales. Savor cuisines of seafood, trendy beach shops, slower pace, exciting nightlife and friendly people is the life of the coastal area. Swimming, Sunbathing, Fishing and Boating is the dream for a beach life. Before buying a home in a coastal area, you may want to rent a home nearby for a week. You could check out the availability of stores, drive-able areas, and the neighborhoods. Some coastal areas are remote and not accessible to deliveries or easily accessible to stores. Cash is always better in buying a coastal home for sellers are more willing to work with you. You can receive a great return on your investment.
Hire an Engineer or Land Surveyor
You may want to hire an Engineer or Land Surveyor to research tides and storm surges. High level of ocean tides that are continuously high need to the land around it for erosion. Greenery around homes show good drainage. Beach front properties suffer more erosion and flooding and are more expensive to purchase and insured.
Home Inspection
You need to have your coastal home inspected for weather related and storm related damages. Check for Flooding in the area and if your home is on a flood plain for you may need additional insurance. Mold and water damage needs to be inspected in your new home. Porch ceilings may need to be repainted and you may need new shingles. Temperature and humidity can be hard on furniture and the wood floors. Sand will be everywhere from the home to the car. Salt Air will also be on your car.
Tourism
Tourists will be there during the tourist seasons. They help with the economy for the area yet hopefully they will respect the area too. You will also have to get use to the crowds during busy seasons at your favorite restaurants, shops and entertainment areas. Congested roadways will happen during the summer months. Leasing your home 75% of the time can be a great reinvestment in your home.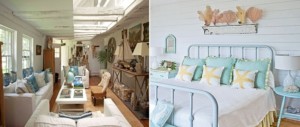 Coastal Décor
Beachy motif, blue paint, crisp white furniture, sea themed accents, and ocean canvas may take over your beach home. Window treatments of blue shutters or wooden shutters are very popular in the beach homes. The living room could be filled with white furniture with sea color pillows which keeps the home looking cozy and inviting. Throw Rugs with coastal colors help keep the sand off the floors and are perfect for each room. You don't want carpet for it will only hold sand and mold in your house. A rustic sitting area with an over-sized chair and a lamp is the perfect place for a reading area. Nautical accessories such as a lighthouse or seashells can add novelty to bookshelves. Seascape wallpaper or borders and white ship-lap is great addition for a beach vibe and can dress up any room for that coastal look. Shades of grey and natural hues add the special add on colors. Basket storage are great beachy looks to add to the bedrooms and bathrooms. A sunny breakfast room would be beautiful with a distress wooden table and colorful or misfit chairs. You will want to have hooks to hang hats, beach towels, and totes for convince and to keep sand out of the house. Bedrooms filled with large ceiling fans, soft pillows and light coverlets are perfect for the Oceanside bedrooms. A bed looking like a boat is perfect for a children's room with a nautical look. Wicker furniture and a lazy porch swing is the perfect outdoor decor for your beach house. You could even add your own beach cabana of an open patio area. You want to add your charm and personality to your amazing beach house.