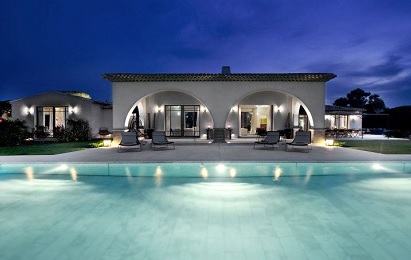 A perfect retreat in your backyard is a pool house that shows your creative force and makes entertaining exciting and stylish. The Pool house needs to be designed to meet your architectural design and your functional aspect. Windows and glass walls abound to let in plenty of natural light and the stunning views of the landscape. The Pool house can include a living area, full kitchen, bar, game room laundry room and a full bathroom. Bath towels, dinnerware and glassware are perfect for your guests while you entertain. Brick, Tile, Concrete and Natural Stone make good choices for inside the pool house. Your pool house should be your luxury area where you can escape to nature.
---
Mediterranean Pool House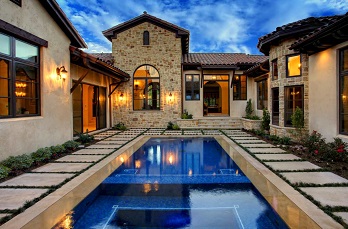 A Mediterranean pool house can be an enchanted oasis that shows the blue waters of the Mediterranean Sea. Moroccan tiles, fire pits, Moroccan lighting, large throw pillows, and bright colors detail the inside of the pool house. Stone pool decking, Tropical landscaping, dramatic waterfalls and colorful lights will compliment a Mediterranean Pool House. Pergolas, Verandas and Gazebos are a beautiful addition to a Mediterranean Pool House. The Mediterranean pool displays tranquility.
---
Contemporary Pool House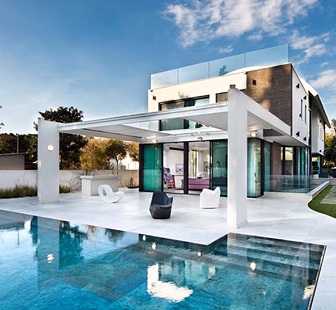 Showing horizontal line to the silhouette to display a contemporary look. Retractable glass doors gives an indoor outdoor living space. Smart home living will enhance the contemporary living. Chic Modern Bar, contemporary lighting, bold colors, floating shelfs, , mosaic tiles, abstract art and modern furniture will execute an aesthetic contemporary look for the pool house. A modern pool or an infinite pool will show you style with no boundaries and give you that unique look.
---
Two Story Pool Houses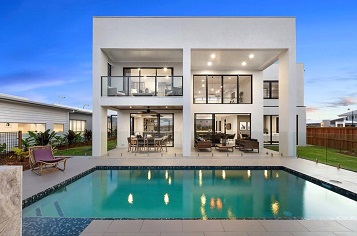 Two story pool houses ae great for limited space or adding more rooms. Two Story pool house can have a sun deck or a roof deck to compliment the pool. Why not have a multi-level escape in your outdoor retreat. The Multi-level pool house can have downstairs for living area and kitchen area and the upstairs for sleeping or media room area. Two story pool houses are very functional and aesthetic!
---
Rustic Pool Houses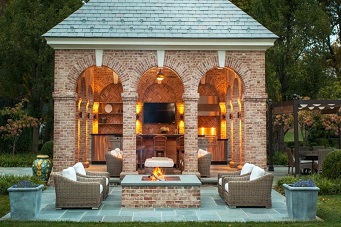 A Tuscany inspired pool house shows sophistication and elegance. Wood burning stove, wine bar and a dining nook makes the space intriguing. Deep reds, fiery oranges, beautiful yellows and stunning browns will enhance the rustic look . Rustic Pool houses have flagstone tiles, brick columns, and brick walls add romance and charm to your pool house.
---
Country Retreat Pool House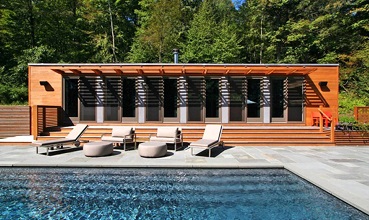 The Country Retreat Pool House has classic look with barn line vibes. Barn doors would display the country retreat look. Wooden beams, wooden floors, wood cabinets, country art, and oversized sofas and chairs will provide the farmhouse look. Fireplace, ceiling fans, oversized wood furniture and farm art gives you the farm like vibes. A country Retreat Pool houses is trading the city life for landscapes of hills and mountains. A Pool house should become your place for friends and family to enjoy your backyard oasis.
---