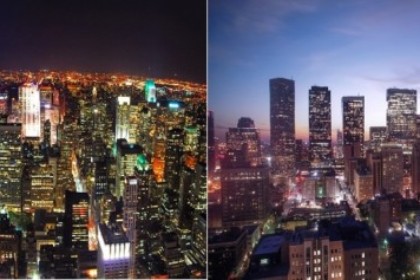 Houston and New York City have similar business sectors and arts sector. The inexpensive cost of living, traveling Broadway shows, great job opportunities, direct flights to almost anywhere, savor cuisines of amazing restaurants, trendy shops, world class museums, diverse cultures, great nightlife and friendly people are offered in Houston. Housing is available from high-rises downtown to homes with acres of land surrounding Houston. Houston does have hot and humid summers.
Cost of Living
Houston has a lower unemployment rate which indicates better career opportunities and economic growth. Houston is 5.6% vs. New York City of 6.1%. The average monthly salary for Houston is $3575 and for New York Cityis $4107. The average monthly rent for a one bedroom apartment in the city for Houston is $1366 and for New York City is $3125. A three bedroom apartment in the city for Houston is $2422 and for New York City is $6235. Buying an apartment in the city in Houston is $191 per square footage and in New York City is $1265. Preschool monthly for a child monthly in Houston is $953 a month and for New York City is $$1824. Median age of population for Houston is 37.1 years old and New York City is 35.5 years old.
Arts Sector
The Theater District downtown Houston offers the Broadway musicals and plays are held at the Hobby Center, Wortham Theater Center, Alley Theater and Miller Outdoor Theater. New York City will always be known as the American Mecca of live theater. Houston has 70 amazing Museums. In the Houston Museum District is the Houston Museum of Natural Science, Museum of Fine Arts, Children Museum, and Contemporary Arts Museum. New York City has the Metropolitan Museum of Art. Art is everywhere in Houston.
Historical Tours and Landmarks
NASA Space Center home is in Houston Texas. You can visit Apollo 17, touch a real moon rock, and see astronauts train for new missions and tour behind the scenes of NASA. NASA is 250,000 square feet of educational entertainment complex telling the story of human space flight program Battleship of USS Texas and San Jacinto. New York City will always have the amazing historical tours of Statue of Liberty, the National 911 Museum, Rockefeller Center, and Empire State Building.
Parks
The parks in Houston are the Herman Park, Discovery Green, Houston Zoo and the Buffalos Bayou Park. Central Park is the world class urban park of New York City.
Points of Interest
Houston has the trendy shopping, and exquisite dining in the Galleria area with the Houston Skyline. New York City's Times Square and Manhattan skyline has the same diversity as in Houston. Houston Livestock Show and Rodeo is the largest rodeo and livestock event benefiting the youth! The Event runs through February 27th through March 18th. The Rodeo has carnivals, live concerts, winetasting, livestock shows, shopping, dining and the traditional trail ride.