Moving is pretty stressful – between finding a mover, packing, unpacking, forwarding your mail, and the million other little things involved, it's easy to feel overwhelmed.  And although there's probably no way to make moving 100% stress-free, there are a few things you can do to make things a little easier.
Choosing an optimal time to move can help ease some of your moving-related stress.  Of course, "optimal" varies from person to person – things like jobs, school, holidays, and even the weather can all affect how smoothly your move goes.
Here are a few things to consider if you're trying to choose when to make your big move.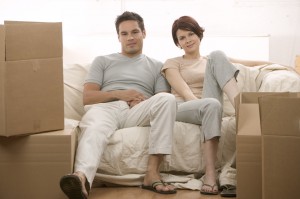 Needed:  Time for Planning and Settling In
Planning your move for a time when you don't have a lot of other stress in your life will help give you plenty of time to prepare beforehand, plus you'll have extra time to unpack and settle into your new home.  Choosing a time when you're less busy at work, or at least able to take a few vacation days, typically works best.  However, be wary of moving during major holidays:  You might have a few extra days off, but you might have trouble finding a moving company that's working over the holiday.
Summer is a popular time for families with school-age children to move.  Moving during summer vacation allows time for settling into a new home – and possibly a new city and school district.  A summer move gives kids more time to adjust, and it also means that they won't have to switch schools in the middle of the year.
The bad part about moving during the summer?  It's such a popular time to move that scheduling a mover can be difficult.  If you're planning a summer move, be sure to schedule your movers far in advance before they get booked up.
Needed:  A Great Deal
Many moving companies offer special deals and coupons during their less busy seasons.  If you don't need to move during the summer, you could save a lot of money by scheduling your move for the off-season, which runs from November through January.  If you don't want to schedule your move too close to the holiday season,  try February, March, April, or October.  Any time that school is in session is typically cheaper.
Here's another money-saver:  Move during the week. Most people want to move on the weekends.  Some movers offer special deals or lower rates for moves scheduled on Monday through Thursday.
Needed:  Temperate Weather
Depending on where you live, weather can play a big role in scheduling a move.  If you're moving from one climate to another, you'll need to consider the weather in both locations.  Moving from a warm climate to a cold one can make wood furniture to warp or crack.  Moving during an especially snowy or rainy season can be messy.  For a less-stressful relocation, try to move in the spring or fall, when temperatures are less extreme.
We're Here to Help
We hope this blog post helped you decide when to schedule your move!  If you want more advice on planning the best time to move, we're happy to talk it through at (713) 266-8348.