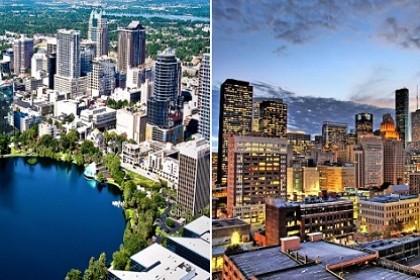 Orlando and Houston are similar in the diverse culture of their city with a great mix of people, culture, food and industrialism. The city of Orlando has the nickname "The city of Beautiful" and it symbol is the fountain of Lake Eola. Orlando is voted as the most 4th favorite place to live. Tourism is huge in Orlando with all the theme parks. The city is also known as the busiest American cities for conventions and conferences. Orlando is a major high tech and industrial city.
They are known for the nationally recognized cluster of innovation in digital media, agricultural technology, aviation, aerospace and software design. Houston economy thrives on energy, manufacturing, aeronautics and transportation. Houston has the 2nd most Fortune 500 headquarters in the United States. Houston has the 4th largest skyline in the United States. The inexpensive cost of living, tax breaks, employment opportunities, inexpensive housing, direct flights to almost anywhere, savor cuisines of amazing restaurants, trendy shops, diverse cultures, and friendly people are offered in Houston Texas. Housing is available from high-rises with downtown city views to luxurious layouts of homes with acres of land surrounding Houston areas. Houston does have hot and humid summers. Southern friendly hospitality mix with an urban chic city keeps Houston life always interesting and exciting!
Cost of Living
Unemployment rate in Orlando is 3.7% and Houston is 3.8%. The average salary in Orlando is $58,621 and Houston is $69,766. The median cost of a home in Orlando is $272,500 and the housing market is down. Houston is declared the third best real estate market for first time buyers. The average listing price in Houston is $412,964 for a home for sale. In Orlando to rent a one bed room apartment is $1255 and Houston is $1375. A three bedroom apartment to rent in the city of Orlando is $1764 and Houston is $2420. Childcare in Florida is $650 a month compared to Houston of $947 a month. The median age for Orlando is 33 years old and Houston is 37.1 years old.
Points of Interest
Orlando is also known as "The Theme Park Capital of the World. They have over 68 million visitors in a year. Orlando Florida has beautiful beaches, Magic kingdom, Walt Disney World, Epcot, Sea World, Universal Studios, Animal Kingdom Epcot, and Kennedy Space Center. Orlando has five beaches close to them which are Cocoa Beach, Daytona Beach, Smyrna Canaveral National Seashore and Flagler Beach. They are about an hour away. They offer seaside piers, beachfront parks, water parks, and seaports. You can enjoy parasailing, snorkeling, jet skis and personal watercraft excursions. The beaches have trendy restaurants and shops to entertain you. Houston has the trendy shopping, and exquisite dining in the Galleria area with the Houston Skyline. Houston Livestock Show and Rodeo is the largest rodeo and livestock event benefiting the youth! The Event runs through February 27th through March 18th. The Rodeo has carnivals, live concerts, wine tasting, livestock shows, shopping, dining and the traditional trail ride. Southern friendly hospitality mix with an urban chic city keeps Houston life always interesting and exciting!
Weather
The average weather in Orlando is 72 degrees. The weather stays warm all year around. Houston is very humid and average rainfall is 49.8 inches of rain. Houston has very hot summers from May through September. The temperatures vary from 35 degrees in the winter to 100 degrees in the summer. Weathers are similar they and hot and dry in the summer and cool and wet in the winter. They both are hurricane risks.
Space Centers
Orlando has the Kennedy Space Center, Patrick Air Force Base, and Cape Canaveral Air Force Station. Orlando is the hub for the nation's military simulation and training programs. Houston has NASA where the mission control center is located. You can visit Apollo 17, touch a real moon rock, and see astronauts train for new missions and tour behind the scenes of NASA. NASA is 250,000 square feet of educational entertainment complex telling the story of human space flight program.
Airports and Golf
Orlando has the Orlando International Airport and Houston has two major airports of Bush Intercontinental and Hobby Airport.
Golf is huge in Orlando and Houston Texas.