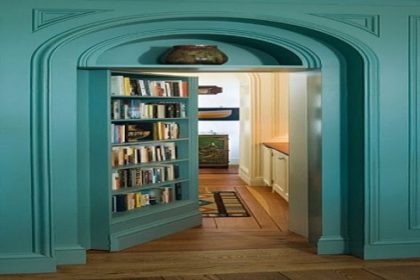 When you are building or moving into a custom home, here are some extra design ideas that add value to your home. These unique features will not only add value to your home yet enhance your lifestyle too.
---
Extra Storage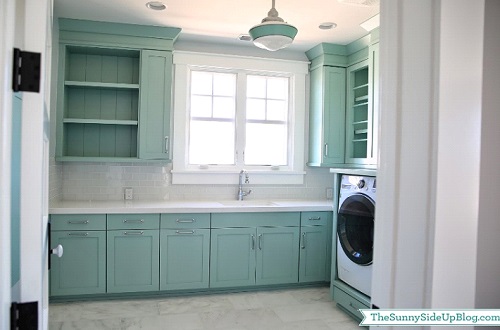 Extra storage can be added by creating a hidden room with a bookshelf going into another room such as a movie theatre loft, classic hidden reading nook, or a hidden wine bar. Built in desks, tables and bookshelves are great add in shelving ideas that give you the chance to create the organization you want. A large mudroom is an organizational area that is a transition between the outdoors and indoors. A bathing station for the dog would be great in the mudroom. Stair designs can add extra storage with bookshelves, pet rooms or a wine cellar. Hallways become libraries and bookcases, shallow cupboards and space between wall studs become cabinets for cleaning supplies and brooms.
---
Upstairs Laundry Room and a Central Vacuum Center
An upstairs laundry room would be more accessible and more efficient with bedrooms upstairs for there will be fewer trips up and down the stairs. A central vacuum center will make cleaning easy.
---
Bathroom Spas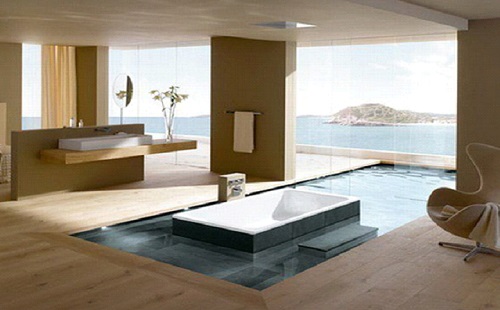 The best upgrade in a master bathroom is a spa. Large master bathroom with room for a soaking tub, walk-in-shower and a sauna will add a sense of luxury and relaxation to your life. A see thru bathtub is a unique design look. An on demand water heater will help you save space and energy and you will never run out of hot water.
---
Luxury Kitchens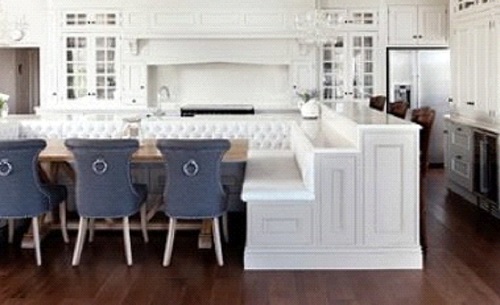 A luxury kitchen with decors of modern lighting, granite cabinets, wall tiles, beautiful black splash, modern faucets and appliances will enhance your home look. Luxury kitchens would include dual workspaces. A jetted laundry sink is great for washing delicate laundry. Under cabinet outlets will keep your kitchen backsplash beautiful. A kitchen breakfast nook will add design flair and help maximize your space. An herb garden in your kitchen will enhance the smell and cooking of your kitchen. A mobile cabinet or mobile island will give you the extra counter space.
---
Wine Cellar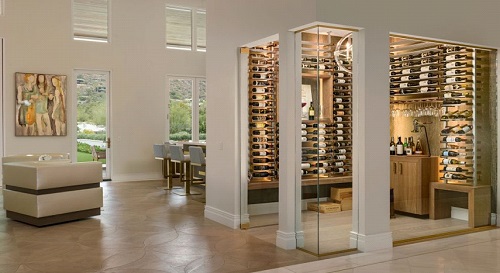 Wine cellars are becoming an increasingly high demand item in new home builds. You may be a collector, connoisseur or just a fan of wine, having a wine cellar is a definite extra beautiful design to your house. Wine rooms control the temperature and the humidity of your wine collection. Beautifully designed wine cellars increase resale value of your home. The advantages of having a wine clear in your home are organization, improved wine collection, and social gatherings.
---
Outdoor Offices and Outdoor Theatres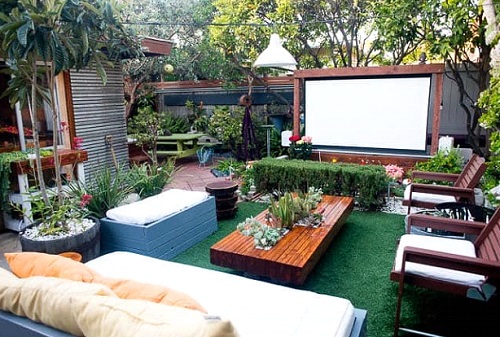 An outdoor office is a unique way to work and stay away from the noises in the house and enjoy nature. An outdoor theater Backyard Movie Night Party are fun to plan and have. You need a projector, sound system, a screen, bed sheets and blackout cloth. Seating area of outdoor furniture, indoor furniture, pillows, outdoor rugs or just blankets to create a cozy atmosphere. Lighting can create an ambiance with torch lights, lighted balloons rope lighting, or glow sticks for kids.
---
Smart Homes and Outlets
Smart technology is wonderful for custom homes. You want to have programmable thermostats and WIFI-controlled lights, lock and security systems. A thermostat in every room will allow you to adjust the temperature from room to room. Smart home gadgets are internet connected devices to enable the remote monitoring and management of systems and appliances in the home. Home Security is more efficient with the automated doors, window locks and intelligent lighting and cameras. Smart lock remotely locks and unlocks the door when you leave and return home right from your phone. Smart Outdoor security cameras will stream HD videos right to your phone even at night. Smoke alarms that contact you in an emergency and lets you know where the smoke is. A pet tracker lets you set up geo-fencing for your pet and sends you an alert if he leaves the area. Smart thermostats can be monitored by your phone to regulate your temperature. Home movie theatres are set up with the smart gadget technology. You want to have adequate outlets in your kitchens, bathroom and outdoor living spaces. Adding outlets and USB ports under cabinets and other spots will keep you and your family plugged in. Impact windows help secure your windows during hurricane season. In wall pest control that inject chemicals right into the walls. Heated floors will be the knockout for your master bathroom and a heated driveway is a luxurious feature for not shoveling snow. Elevators are away a nice touch to a home. Unique features that meet your personality will amplify your lifestyle and give you your grandeur look.