Georgia is mesmerizing state with breathtaking views of stunning Mountains, charming historic landmarks, wildlife parks, pretty beaches and gorgeous barrier islands to the East. Georgia is in the Southeastern region of the United States, bordered to the north by Tennessee and North Carolina; to the northeast by South Carolina; to the southeast by the Atlantic Ocean; to the south by Florida; and to the west by Alabama. Georgia has a lot to offer from wide open living spaces, small town charm, big city living and southern hospitality. Georgia strives it name of the Peach state from its peaching farming. Georgia is famous for their role in American history and the civil war. They state is known for as "Empire of the State" Martin Luther King was born in Georgia.
---
Lower cost of Living
The cost of goods and services, groceries, housing, transportation and utilities are all below the national average. Property taxes tend to stay rather low compared the national level and are paid annually in the county where the property is located. Georgia has a graduated individual income tax, with rates ranging from 1 percent to 5.75 percent and a 4 percent state sales tax rate. Georgia is one of the most affordable places to live and is the 5th lowest cost of living.
---
Housing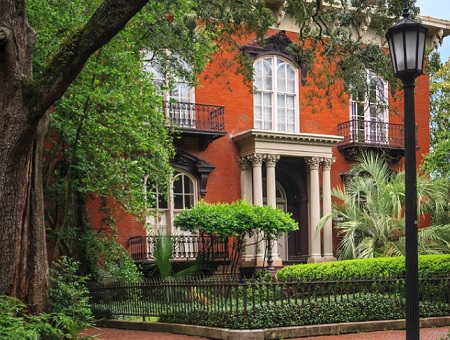 Housing is affordable in Georgia. The average pricing for a home is $297,000 and renters pay a median price of $1188. Atlanta is the place to live if you want the big city life. The city has great job opportunities and a major airport in the city. The popular neighborhoods in Atlanta are the Windward, City Center, and Avalon. The disadvantages of living in Atlanta is the gridlock traffic and very expensive to live there. Savannah is a beautiful coastal town and is a great place to live in Georgia. Savannah shows its history with beautiful parks, horse-drawn carriages and antebellum architecture. Athena is a great college town with a lot to do and one of the best places to live in Georgia. Living in Athena offers residents a close-knit suburban feel with lots of bars, restaurants, and parks to visit. Augusta and Macon are charming towns. Augusta is a vibrant city where the home of the Masters Golf Tournament is held. Augusta is a historic college town home to college students, military families and serious golfers. Macon is a city of diverse cultures, beautiful architecture, an exciting music heritage and thriving arts and educational opportunities Dahlonega is a small city in northern Georgia where there are tasting rooms offering wines from regional vineyards cluster around 19th-century Public Square. Marietta is one of the best places to raise a family in Georgia and offers historic landmarks, and a dramatic mountain drop. Peachtree City is a golf cart city with 90 mile path of golf carts and lakes. Peachtree City is a resort area with many families, shopping and dining offered.
---
Employment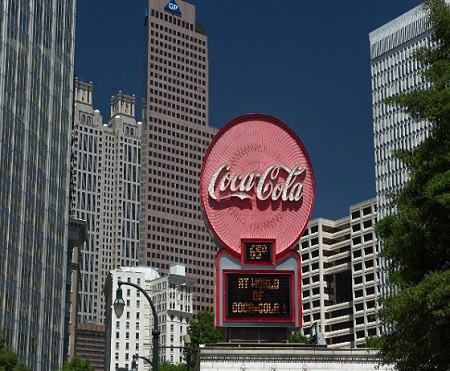 The Fortune 500 companies are in Georgia include Coca Cola, Delta and Home Depot. Coca Cola's home is Georgia. Georgia is a leading state in the production of lumber and pulpwood used in making paper and supplying electricity. Georgia is ranked third in the nation in net electricity generation from pulpwood biomass. There is more than 9 million acres of farmland are devoted to agriculture in Georgia. Georgia is ranked first in the nation for production of peanuts, pecans and Vidalia onions. Peaches are what Georgia is known for and is loved by all. The average salary in Georgia is $40,000. Georgia has a growing job market with many great opportunities because of low cost to start a business, accessibility of new markets and amazing workforce training programs.
---
Universities
Georgia has multiple private and public colleges mostly located in the Atlanta area. The cities of Atlanta, Athens, Savannah and Augusta are schools the college kids love. The Savannah College of Art and Design is tone of the best art school. The University of Georgia, Georgia State University, Emory University, and the Georgia Institute of Technology are the most popular colleges in the state.
---
Weather
Georgia has a subtropical climate which means you can enjoy summer all the time and Christmas in the winter. The weather is moderate with summers being very hot and humid. The average temperature is from 80 to 60 degrees. Winters can be as cold as 35 degrees.
---
Universities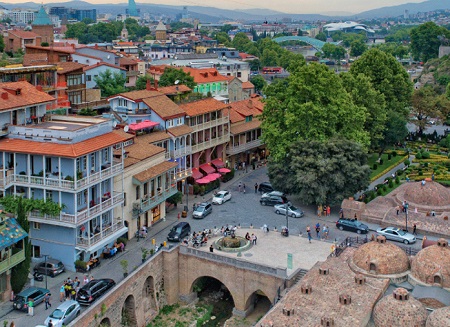 Lifestyle in Georgia has laid-back atmosphere, southern cuisines, southern hospitality, historic landmarks, big cities and abundant outdoor activities. Beautiful cities, charming villages and towns add to the attraction of living in Georgia. Georgia is known for their craft beer. Georgia's southern cuisines are Sweet tea, sweet peach cobbler, blueberry and pecan pie Brunswick stew, fried chicken, pimento cheese grits, fried okra, cornbread, boiled peanuts and Barbeque. Barbeque was known as their sauce as a sweet tomato-based sauce. Festivals are held throughout the state and add fun and entertainment for everyone. College football, and professional sports such as the major league baseball of the Atlanta Braves NFL Atlanta Falcons and NBA Atlanta Hawks are the diehard sports in Georgia. Country music, gospel music and R & B music is the heart of music for Georgia. Augusta National Golf Club is in Georgia and holds the Masters tournament. Georgia is proud of their Revolutionary and Civil Rights history. Georgia played an important role in the Civil Human Rights Movement. You can enjoy the southern cousins, professional sports, historic landmarks, State festivals, and best music of the country all in Georgia.
---
Outdoor Recreation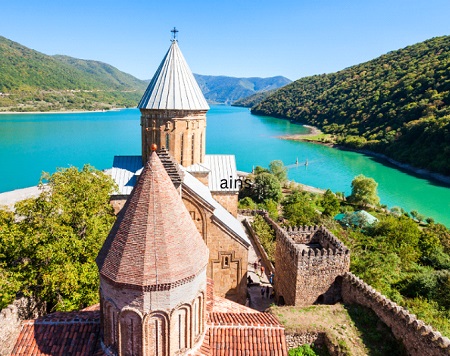 Georgia's landscape offers to the endless wildlife parks and the magnificence of the Appalachian snowcapped mountains, and the Blue Ridge Parkway Mountains. Landmark State Parks in Georgia are the Okdfenokee National Life Refuge, Providence Canyon State Park, and Stone Mountain Park. The activities are endless of hiking, cycling camping, cave viewing, and fishing. Centennial Olympic Pak is a 22 acre park originally built for the 1996 summer Olympics Games. Lookout Mountain is a great beautiful place to see Georgia's Lakes and mountains. There are more than 50 waterfalls to see in Georgia such as the Amicalola Falls. Boating is very popular in Georgia for you have the amazing coast of Georgia and the gorgeous lakes .Georgia's state coastlines boosts some if the east coast most scenic seascapes. Tybee Islands, just south of South Carolina border features both North and South beach that have drawn Savannah beach combers and dolphin watchers. St Simons and Jekyll Island are all stunning beach destination the in the Peach state. Cucumber Island is the home to wild horses. There are numerous spectacular views and endless outdoor activates to enjoy in Georgia.
---