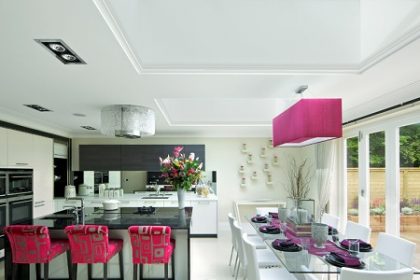 The kitchen is the heart of the home. A warm, modern, functional and inviting interior for your kitchen will create that overall aesthetic beauty and breathe new life into your kitchen. Moving trends for iconic kitchens are dramatic statements, versatile areas for the home, smart and multi-purpose appliances and the gathering place for your family. Technology advances and changing social dynamics have contributed greatly to the rise of modern kitchens.
---
Matt Black Kitchen Units

Black Kitchens create a real show stopping moment. Black granite counter tops and furnishings in dark finishes creates a sleek, modern and dramatic look. Two different colors on cabinets add dramatic pop to the kitchen.
---
Feature Islands

Kitchen islands are dividing the design by making a showcase statement by using different materials such as marbles, darker woods, quartz and mahogany. Double islands allow for dining on one and food prep on the other for larger kitchens. Double islands offer double the function. Dining and entreating becomes more accessible in the kitchen with the double islands.
---
New Kitchen Designs

The new kitchen designs are blasts of colors, three dimensional textures, vertical tiling and mix and match metals. The vertical tiling and herringbone pattern give a more relaxed artisan feel. Dimensional textures in the kitchen add unexpected depth and unique character. Blue, Jewel tones of black, grey, navy, emerald green and plum are the new pops of color. The island can be bolder than the rest of the kitchen. Open shelving is replacing upper wall cabinets for it opens up the kitchen. You see open shelving is prominent in bars and coffee stations. Hardwood flooring is still the best choice for kitchen floors. Backsplashes trends are large slabs, of marble, quartz, wood, copper, stainless steel or glass.
---
Multipurpose Kitchens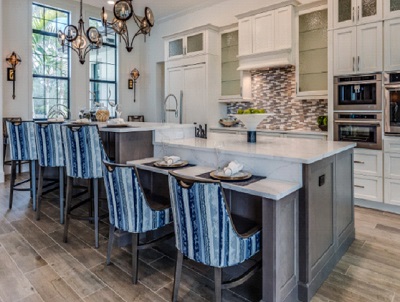 The kitchens are transitions to home offices, gardening areas, and dining rooms. Banquette Seating connected to the counter adds extra eating spaces. You want to have a functional and open layout for your kitchen. Banquet seating is increasingly popular because if offers your family and friends a much comfort experience. Kitchens have become the perfect space for a temporary to a permanent office Herb gardening with open shelving opens a place in the kitchen and gives you the perfect aroma.
---
Smart Kitchens and Concealed Kitchens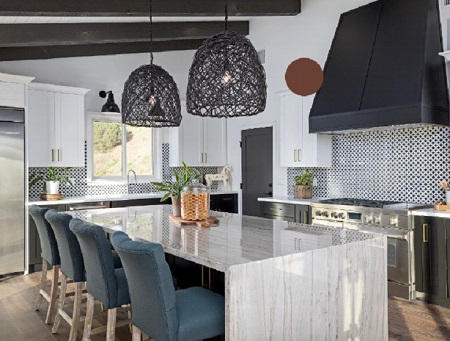 Modernization of kitchens by using concealing small appliances, cookware, sink and general clutter behind closed doors creates a non-kitchen look. Antique furniture tables with marble countertops are being used instead of kitchen islands. Living room furniture look rather than the classic kitchen cabinets incorporate style and storage. Smart technology has entered in every function and appliance of the kitchen such as faucets, fridge and the lighting. Refrigerators can alert you when grocery items are running love or a coffee maker programmed to have your coffer ready when you wake up. A chef sized range over and an equally large refrigerator becomes a must in the new homes. Custom vents are becoming the showstoppers in kitchens and add design to your range and kitchen. Your home kitchen should have your personal touch and where your family and friends are surrounded by a breathtaking experience of sipping and savoring your delicious cuisines.
---