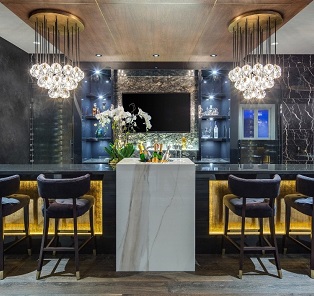 Designing a home bar will provide a dramatic design statement and entertainment for your home. The home bar should balance elements of a glamourous statement design and also include comfortable livable space.
---
Accessories for your home Bar
The bar need to create a design and stands out from the rest of the house. The home bar need to be fun and artistic. Seating area of chairs and tables will give you comfortable livable space in your home. Cabinets and countertops are being built into bar areas for storage of drinks and snacks. Adding under cabinet appliances such as wine chillers, beverage coolers, ice machines, microwaves, coffeemakers, small fridges and dishwasher will be more functional and accessible to your bar. Home bars can be dual effective by having a Wet bra and a coffee bar in the same area. Open shelves, granite bar tops, bold tile patterns and colors, accent walls, and exquisite lighting will create a statement in your bar area. Music and TV's will entertain groups of friends for dinners, family gatherings or heated game of sports. Home bar wants to be functional and decorative for your home.
---
A home bar can create a design statement with a sense of luxury and comfort. Here are different types of home bars to help you create your dream home bar.
---
Chic Modern Bar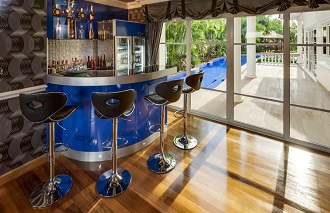 Chic Modern Bar will have bold colors, marble countertops, floating shelfs, open shelving, mosaic tiles and modern furniture to create a more casual aesthetic look for the bar area. Abstract art, gold and silver hardware, modern barstools and whimsical accessories create a fun and relaxing bar area.
---
Classic Bar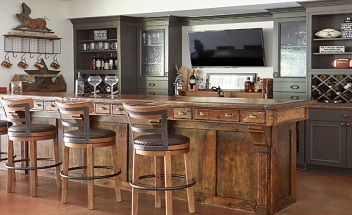 A classic bar has your wood bars with traditional furniture and accessories. Oversized chandeliers, glass shelving, glass cases classic rugs, and classic barstools.
---
Farmhouse Bar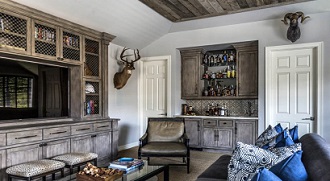 Farmhouse bars are a classic traditional woodsy home bar. Barn doors, wooden floors, wood cabinets, country art, and oversized sofas and chairs will provide the farmhouse look.
---
Luxury Bar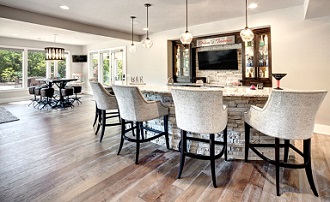 Luxury bar areas are extravagant. A seating area and a dining area space can be versatile and entertaining. Bold statements of colors in the furniture and walls will proved the grand feature of the home. Smart technology and modern appliances add to the luxury of the bar area. Glass floating shelves and open shelving displays the unique bottles of liquor and wines your bar has.
---
Nighttime and Cozy Bar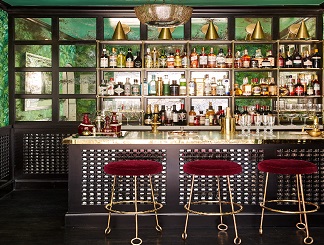 A dark and cozy bar will create your favorite nighttime bar. This bar will create coziness and perfect for entertaining space where you will be hosting night time cocktails or watching movies. Dark color palettes and recessed lighting create a romantic cozy ambiance. Seating areas will enhance the coziness and comfort of the bar area. Home bars can become your luxurious mini retreat.