Outdoor living are a great way to expand your living space. Homeowners are finding that these spaces can add function and beauty to your home. Your outdoor space can be a peaceful getaway resort or a luxury custom built entertaining area. One of the best evening dinner parties are outside. You can enjoy the dinner party with the ambiance and relaxation under the moonlight and stars. Newness and Excitement in design are fun to add to your design outside. The outdoor living design of your home needs to provide a harmonious transition from the home to the outside by providing comfort and aesthetic.
---
Landscape Designs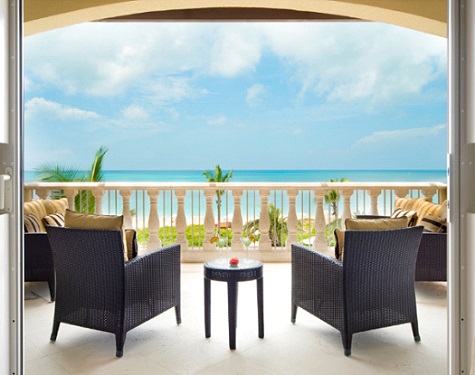 Outdoor living is adding statement of dramatic fashion to homes and enjoying the outdoors as an extension to their interior space. Outdoor living should be unique, beautiful and truly comfortable. You can add balconies, verandas, pergolas terraces and loggias.
---
Color Schemes

Big bold colors are the new trend that adds vibrant and design to our outdoor living Bright colors such as lemon yellow, deep red, cobalt, emerald green are very popular to add pop to your décor. Caribbean blue, fuchsia, pistachio, matte golden mossy green and alabaster go well with modern outdoor living. Calm, neutral and mutes tones offer tranquility and peace in the furnishings. You want to have a brilliant contract in your outdoor living with bold colors and neutral colors.
---
Nature Inspired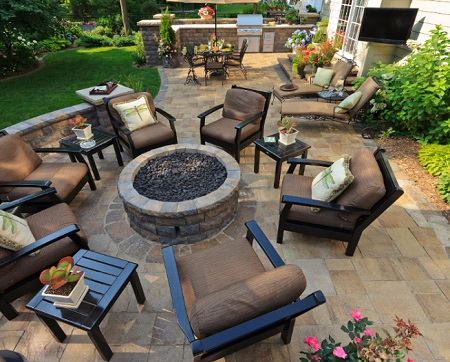 Harmony with nature is very important to create the serenity by your landscaping and relaxation with comfortable furnishings Burlap and Linen provide a natural and relaxed look in your furnishings. Rattan creates calmness and uniformity of your décor looks. Wooden patio tables and chairs in warm finishes enhance the rustic look of outdoor living. Jute rugs are one of the most trending accessories for outdoor living.
---
Outdoor Furniture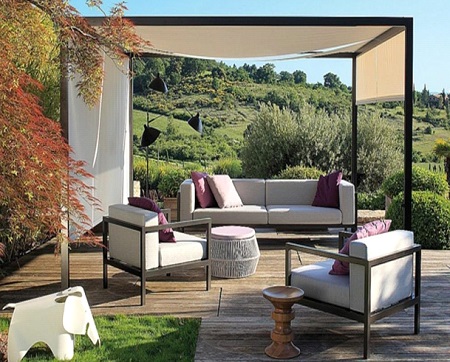 Outdoor furnishings can be fun with upholstered furniture, oversized sofas, arm chairs, wooden tables, boho chairs, swing chairs, outdoor daybed, rattan stools, and dark wooden dining tables add elegance and comfort to your outdoor living. Concrete tables, bench seating and fire pits are popular because they are weather resistant and can hold many years of use.
---
Outdoor Accessories

Street bars, outdoor kitchens, pizza ovens, fireplaces, fire tables, heaters swamp coolers, hot tubs and outdoor theatres all fun to your family and friend gatherings. Cabana striped accessories of blankets, and pillows add the nautical look in your outdoor furniture. Bold colors add dramatic effect to your outdoor living. Lamps in neoclassical styles are great accessories to your patios. Flooring made of wood, tiles or natural stone make such a bold statement of your design of your outdoor living. Floor vases, flower pots, canvases, awnings, and umbrellas add mood to an exterior design. Drapery, outdoor water features and outdoor tile accent walls create your own cozy and intimate space. Outdoor living is a dream by combining the inside and outside as one and offering a peaceful refuge and ambiance of nature.
---