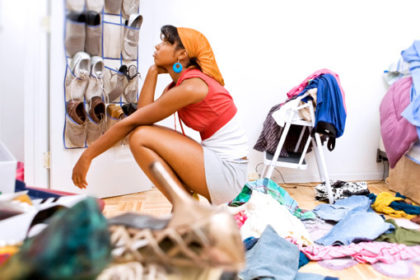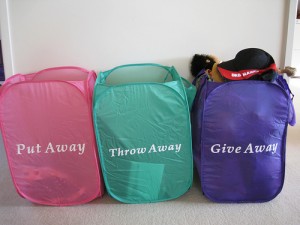 By Katherine Adams
So, you're in the process of putting your house on the market, and you've looked around and thought…. What are we going to do with all this stuff? If you've got a good Realtor, you'll get a personal visit to your home. Your Realtor will suggest the best ways to stage your house so that it will sell quickly, and you can get to your new location as soon as possible. Brace yourself: It's probably going to involve repainting, cleaning, and putting some of your belongings in storage.
The professional movers at A Better Tripp Moving and Storage, Inc. have worked with a number of top-notch area Realtors who give their clients expert advice about how to sell their house quickly and for the best price.
We caught up with Michelle Cardwell, a Houston-based Realtor with Keller Williams Realty-Metropolitan, and learned how and when she recommends storage to her clients. "Some clients need to declutter and need storage prior to sprucing up the inside of their home," she said. "Other times they need storage between moves as the timing of the sale of their existing home and the purchase of a new property do not always align."
Regardless which part of the process you're in, most Realtors advise that this is an optimal time for clients to avail themselves of a good storage. facility.
She added that A Better Tripp has a great, climate controlled storage facility and it's very convenient — and makes a lot of sense — to use the same company to move and store your possessions.
Here are four reasons why storing your unneeded belongings can get a SOLD sign in front of your house sooner, rather than later.
Banish the Clutter
"It's just amazing what can accumulate in a house even after just a few years," Cardwell said. "You need to de-clutter and put things in storage to make your home look larger — even if it means storing your favorite pieces of furniture."
Large furniture takes up a lot of space, and taking it out can play up the room's size, which can be a selling point. "Personal knickknacks need to be stored as well. Some buyers have the ability to see past your photos and envision their own in that space, but others don't," Cardwell said.
She added that some prized collections, such as antlers or other hunting trophies, could be a turnoff to a potential buyer. "Pack these types of items up early and be ahead of the moving game for your new home," she said. "Let the buyer see how much open space is available for them to add their own collections."
Make Room for Painting and Cleaning
"Often, I advise my clients to put a fresh coat of paint in the house, as well as having the carpets cleaned," Cardwell said. "That means moving furniture and other items out of the way. You have to move things anyway to paint and clean, so why not just box it up and store it?"
She said that painting and cleaning go much faster when the room has fewer furnishings, and that in the end, her clients are surprised at how much they are actually able to do without.
You Really Don't Need All Those Clothes
Would you like a stranger to come into your house and look into your closet right now? Most people keep that closet door closed because it's overfilled and disorganized. "You want people to see lots of storage space so pack up clothes from the opposite season and store them," Cardwell advised. " Do the same with your kitchen cabinets and linen closets. If you haven't used it in a year, either sell it, donate it, discard it, or pack it up and store it. Trust me, you won't miss it!"
Extra bedding and blankets can go into storage as well; pack them in suitcases and take them all to storage. "Don't forget the garage," she said. "Sometimes people use the garage as storage and I advise my clients the exact opposite. Men love to envision a workshop or organized garage, so don't clutter their favorite spot with stuff from the inside the home."
 Short Term Storage Equals Long Term Benefit
Minimizing the number of days on market reduces your carrying costs and helps you expedite your next move. Using storage to declutter will aid in the process of selling your home and as the market turns in Houston, sellers will need to be more mindful of the condition of the home to compete with other inventory on the market.
"Spend a little in storage and preparing your home to sell. The results will net more money in your pocket," Cardwell said.  And in the end, storing makes moving easier. "When moving day actually comes, you are ahead of the game and you will be thankful you spent the time and a little money to reduce the overall stress of moving."
It's extremely important to pick the right moving company. "A Better Tripp has hard-working teams that are efficient and conscientious," she said. "They will take good care of you from their front desk to your new front door and every storage and moving need in between. "
If you're planning to sell your house, visit Michelle Cardwell at http://www.michellecardwell.com.