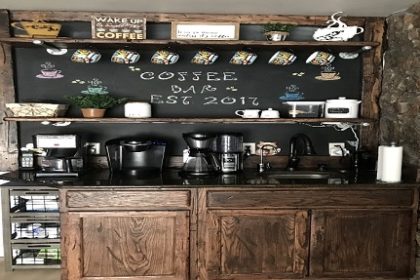 Start by wrapping all your cups and dishes in bubble wrap and box and label. If you still have the boxes for the coffee makers utilize them to pack. Art work and lighting fixtures should be crated. Moving the wooden cabinets' should have furniture blankets to protect your walls and cabinets. Floor protectors are needed to move when moving your heavy furniture to the moving truck. Labeling and organization will help you keep your room in tact to our new home. Coffee rooms or tea rooms can be a lot of fun designing and rewarding. You can even take your room to the outside and enjoy the nature.
---
There is nothing better than waking up to the aroma of coffee in the morning. Coffee and tea seems to perk up anyone's day. There are so many different types of coffee and teas that is fun to experiment with all the different flavors. The best conversations start with coffee or tea. Coffee is filled with unique character and qualities and has become a form of art. Designing a coffee or tea room can be fun and exciting. The accessories to add to your room can be chalkboard walls cabinets, art, special mugs and bookshelves. Develop a special nook where you can escape to watch nature, read a book or talk to friends. Designing a coffee or tea room can be fun and exciting and here are few different styles.
---
Rustic Farmhouse Coffee Room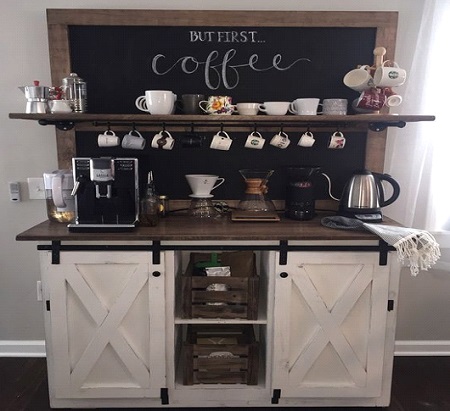 The look and feel of your coffee shop can convey the rustic country coffee or tea room by displaying an old antique cabinet with barnyard doors. Artwork of farm pictures, wooden signs and wooden book shelves add nostalgic to the room. Furniture of wooden benches, bar stools and farm tables add that old vintage farm look. Candles and fresh flowers smells bring the country inside. Cups hanging on hooks, baskets for tea and sugar and a cake stand for muffins or deserts shows an inviting look.
---
Contemporary Coffee Room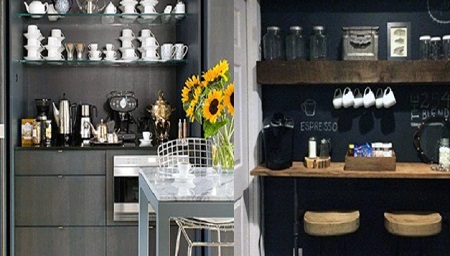 Décor for contemporary room would be bright colors, white, silver appliances, and industrial tech coffee makers and tea makers. Modern lighting and floating shelves add a very cool and unique look. Modern kitchen furniture and abstract art will make any coffee room be talked about.
---
Vintage Coffee Room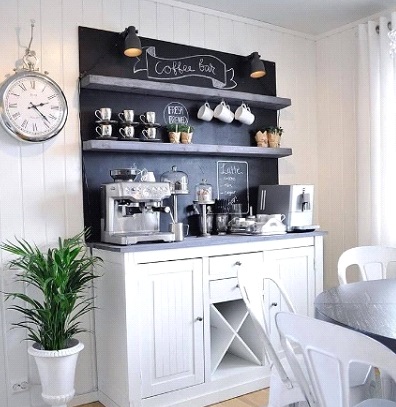 I think of romance and Paris in a Vintage Coffee room. White china, chandeliers, Desert platters, and pub height tables and chairs. European art work or floral pictures create the vintage look. Racks with coffee mugs and glass shelves to display all the beautiful cups you have. Towels in baskets and glass jars labeled with sugar and tea. This room will be the romance and glamour that will take you away from reality.
---
Traditional Coffee Room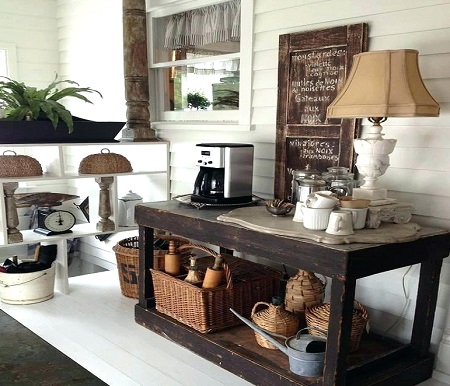 Traditional coffee and tea room could have chalkboards with your favorite coffee flavors, coffee maker, coffee cups and espresso machine all in a beautiful wooden cabinet. Lighting and art can be traditional with your special touch. Wooden bookshelves captures the coffee shop feel at home. . Bar carts and small cabinets are great for small rooms. Make your coffee or tea shop a destination for you to escape and find time for yourself.
---