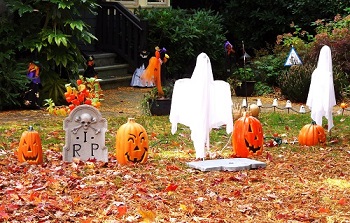 Halloween 2017 Edition
As parents we're always concerned about the best areas to take our little ones this Halloween. Kids love Halloween! Remember to always be with them and have your children use flashlights or glow sticks. You can also decorate costumes and bags with reflective tape. You want to make sure their costumes are not too long so they will not trip. Parents always remind your children to be very careful when crossing the streets. Check out our list of top Houston neighborhoods for trick- or- treating. You can enjoy the festive lights, fun decorations and lots of fun loading up with candy in these amazing neighborhoods.
Bellaire – The Great Pumpkin Hunt
Bellaire has made the top national list again for best zip codes for trick- or- treating. You have the ease of walking the neighborhood and seeing the luxury homes. On October 28th from 6:30 to 9:30 at Bellaire Town Square Great Lawn is the movie Beauty and the Beast. On Halloween plan to arrive early and watch out for traffic. Bellaire will also has police patrol.
The Heights – Halloween Fright Night
The Heights has the best decorations and lots of restaurants and venues around there. The Heights is known for their artsy style! They have beautiful historic homes that look like haunted mansions when decorated for Halloween. You can also tick-or –treat on Hastings Street from 3:30 to 5:30 and visit participating neighborhoods merchants along Hastings Street. In the Heights area is the Burnaby Central Railway at Confederation Park for Halloween train rides in the dark. Admission is $3.50 from 6 to 9 p.m. complimentary hot chocolate and cookies.
The Museum District – Halloween Monster Mayhem
The Children's Museum renames itself every year the Monster's Museum and on Halloween night offers the Moe's Monster Bash from 4 to 8 p.m. Children and parents can party with monsters, go on a monster hunt and dance with the local ghouls.
Cinco Ranch
The area provides safe wide streets and a family trick-or-treat atmosphere. There is a costume contest at the Lake House from 5 to 8 p.m.
Briargrove
Briargrove is near the Galleria Area and has many restaurants and venues to visit. They usually have a commercial Haunted House for older kids and a Happy Halloween mode for the younger kids. They have lighting, customized sound, prop controllers and actors from Second Baptist School. Donations benefit the Children's Fund. The Haunted House is located on Chevy Chase Drive.
Piney Point
Piney Point has spacious streets and huge tress looking over the neighborhood. They have amazing house decoration and walkable streets. The atmosphere is perfect for a Halloween tour!
Zoo Boo
The Houston Zoo invites the parents and children to come dressed in your favorite Halloween costume. The dates are October 21st, 22nd, 28th and 29th from 9 a.m. to 4 p.m. They have pumpkin patches, candy corners, monster mural, spooky stamps station and mazes. Costume parade is from 11 a.m. to 1 p.m. Thriller dance is from 11:30a.m. to 1:30 p.m. There is a fee.