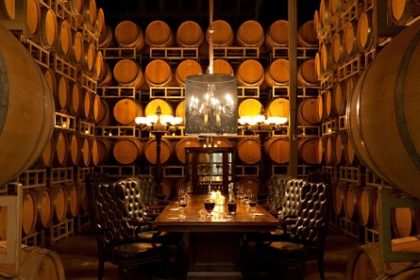 Wine cellars are becoming an increasingly high demand item in new home builds. You may be a collector, connoisseur or just a fan of wine, having a wine cellar is a definite extra beautiful design to your house. Wine rooms control the temperature and the humidity of your wine collection. Beautifully designed wine cellars increase resale value of your home. The advantages of having a wine clear in your home are organization, improved wine collection, and social gatherings.
Types of Wine Cellars
There are several types of wine cellars. A Wine Storage stores your wine bottles. An Underground Wine Cellar stores all your favorite wine securely preserved at optimum humidity. A custom wine room can be elaborate seating rooms for wine tasting and dinners. You need to decide the space, location and theme you want for your wine cellar. You can have climate control or natural. Climate control will be kept at 55 to 65 degrees. Natural needs a thermostat in the wine cellar to keep the temperature cool.
Costs
You want to decide how large you want your wine cellar to be and how elaborate you want your wine cellar to be. The accessories can add up from flooring, racks, décor and extras you may want. The wine cellar could cost up to $3000 to $100,000.
Location and Temperature
You may want to add another room to your home for your wine cellar. If you are storing your wine only, you want to make sure there is enough space for all the bottles. You do not want direct sunlight and the temperature to stay from 45 degrees to 65 degrees. Direct sunlight or lighting can turn your wine. Humidity needs to be around 55%. Over 70% will cause mold in the corks and below 50% will dry out the corks. You will want to purchase a humidifier. Ceiling fans are great additions to help control your temperature for your wine cellar. Wine cooling unit control temperatures and humidity. They will remove excess moisture in the room.
Flooring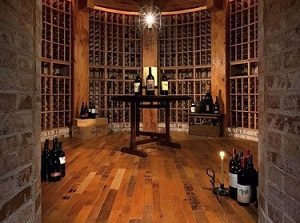 Concrete, tile, and wood plank would be good choices for your wood flooring. Concrete flooring helps the humidity. Wood flooring is the favorite with the rustic wine look.
Lighting

LED lighting, track lighting, and LED strip lights show off your collection. You need to be able to read your labels. You want to stay away from natural lighting, or lighting that gives off UV rays. This lighting will ruin your wines. Dimmer lighting and overhead lighting are great choices for your wine cellar. Decorative floor lamps are great accessories for the décor and reading your labels on wine. Recessed light on cathedral ceiling brightens the area.
Accessories

Wood tones and wood accents have the best Tuscany theme look. Whites, Eggshell and Naturals are the best colors to use with accent colors of muted orange and rustic reds. Glass doors are great for viewing. Insulated doors help with the temperature of the wine room. Gold and silver give you the rich look for your wine cellar. Pianos and chandeliers add the classic look to your wine cellar. A Water fountains or waterfall can help add moisture and add a showpiece to your wine cellar.
Rustic Italian theme

Refine the Wine room with authentic Italian architectural details and world charm décor. Rustic Italian theme has darker woods and muted colors with red accents. Wood wine racks and glass shelves are great additions. Lighting can be lamps, chandeliers and iron sconces. Stone and brick columns are an Italian Tuscany look. A custom arched door of a wrought iron gate provides a beautiful Tuscany entrance to a wine room. A Tuscany wine room will add elegance and romance to your home.
Modern Wine Cellar

Modern look is sharp lines and crisp colors are great for the modern look. Glass doors and glass accessories make the complete modern look. Bar counters, Contemporary art, chandeliers and modern furniture is perfect for the modern look. A savory design with a contemporary look will give you a serene atmosphere while enjoying your wine and conversations.