Our dog companions are there for us through thick and thin. So why wouldn't we want to take them along when we head out to eat, drink, and be merry? A growing number of Houston-area establishments are responding to the call to include the four-legged family members in the fun. If your pup has been a very good boy or girl, treat them to a night out at one of our favorite dog friendly venues below.
1. Gratifi Kitchen + Bar
Leading the pack is Gratifi Kitchen + Bar. In 2011, under the name Ziggy's Bar + Grill, the restaurant was the first to obtain a Paws on Patios permit that allows dogs in the patio areas of Houston eating establishments. Before that time, the city ordinance banned dogs at eateries. The restaurant supported the Paws on Patios campaign that worked hard for Fido inclusion, and history was made!
Now well-behaved canines on a leash and their people can celebrate their hard-earned freedom by relaxing on Gratifi's patio. Dogs enjoy complimentary homemade bacon dog treats, while doggie dinners are available for sale.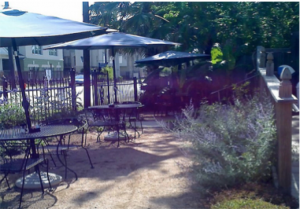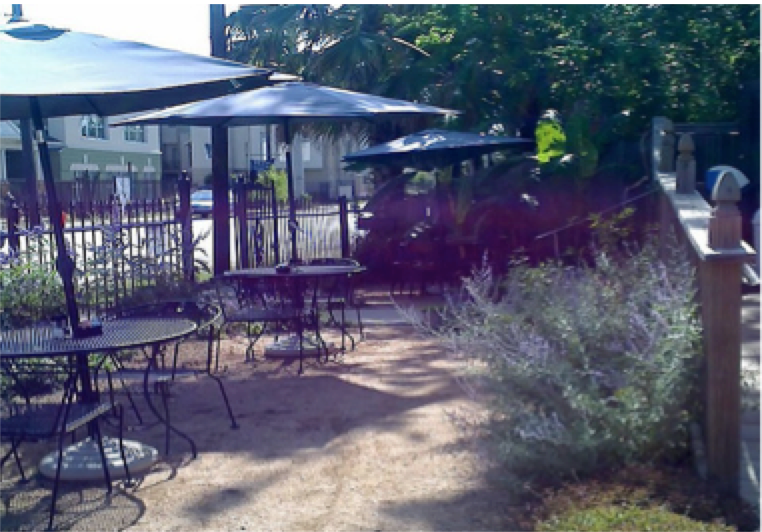 For people, Gratifi offers an array of sumptuous breakfast, lunch, and dinner items, all made from scratch with special house recipes.  Even their jalapenos and fries are handmade!  You might want to slip into their eggs benedict with house-made buttermilk biscuit, pork sausage, and cilantro hollandaise sauce or try their seared ahi tuna with spicy jicama slaw.  A long list of Gratifi libations includes 100% Texas craft beer, cider and beer, wine, and cocktails.
You also can feel good knowing that Gratifi often hosts fundraisers to support local animal rescues.  Houston dogs can give an enthusiastic round of tail wags about that.
Contact info:  302 Fairview at Taft, Houston, TX 77006-3002. 832-203-5950.  Email:  eatdrink@gratifikitchenandbar.com  Website: www.gratifikitchenandbar.com
2. Winston's on Washington
Winston's offers house-made dog treats for your best pal, as well as a wide choice of tempting eats for you that are dog years beyond bar food.  The tasty dishes are prepared by a chef who uses fresh local produce and meats.  Try the chicken-fried ribeye steak and eggs served with applewood bacon and country gravy.  Then sample Winston's other gastro delights like the braised chipotle chicken quesadilla or the French toast and wings.  And the popular Texas Bulldog Burger is mandatory!  Chase with some cool Texas beers.
Enjoy the spacious patio with your pup, basking in the knowledge that a portion of your bar and food tab will go to help out local animal shelters.  Winston's also puts on special fundraising events, the proceeds of which are donated to local shelters, animal awareness groups, and other nonprofits.  Events have included Pupsters on the Patio for the Forgotten Dogs of the 5th Ward Project and Winston's Cause for Paws, benefitting BARC Animal Shelter and Adoptions.
Contact info:  5111 Washington Avenue, Houston, TX  77007.  281-501-9088. Email:  help@winstonsonwashington.com.  Website: http://www.winstonsonwashington.com
3. Backstreet Cafe
Hang loose with your pooch on the Backstreet Cafe's front terrace set under sprawling trees with the pleasure of a bubbling fountain on site.  Waitstaff provides bowls of water for the furred guests, and when it's cool out, the patio is heated.  Located in a lovely 1930s house, the cafe is known not only for its celebrated fare but its captivating setting and yard.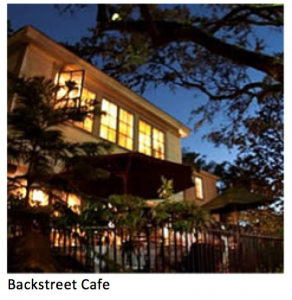 The cafe offers brunch, lunch, dinner, a vegetarian menu, and gluten-free meals on its patios and elegant indoor dining areas.  Award-winning executive chef Hugo Ortega oversees the kitchen with an extensive mouth-watering menu that includes red corn chicken enchiladas; Texas-style steak; fried oyster BLT sliders; and beignets stuffed with shrimp, crab, Andouille sausage, and corn, with a serving of roasted red-pepper remoulade for dipping.  The tastes will leave more than just the canines licking their chops.
Contact info:  1103 South Shepherd Drive, Houston, TX  77019. 713-521-2239. Website:  http://backstreetcafe.net/index.html
4. Mosquito Cafe
Friendly, leashed dogs are welcomed with a bowl of cool water in the outdoor dining area of Galveston's popular Mosquito Cafe.  The digs are located in the East End Historical District of Galveston in a restored site dating back to 1870.
Chosen as One of the Top 15 Restaurants in the Houston Metropolitan Area by Zagat, the distinguished guide to restaurants, Mosquito also was honored in the guide's Top "Eclectic-International" category.  The good news doesn't end there, though.  Mosquito has received top-dog accolades by Galveston residents who voted it the Best Overall Restaurant in Galveston County and cited it for having the Best Breakfast and the Best Business Lunch.  Galveston also rates the bistro number one for Friendliest Service.  You can't go wrong here.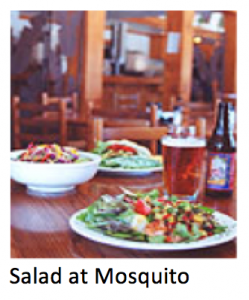 Opened Tuesday through Saturday for breakfast, lunch, and dinner and on Sunday for breakfasts all day or lunch, Mosquito serves up dishes that include made-from-scratch soups, pastas, decadent sandwiches, hearty breakfasts, burgers, vibrant salads, and fresh bakery goods.  Food is grilled, steamed, sautéed, or roasted but never fried.  Check out their grilled salmon club sandwich with hickory smoked and peppered bacon, balsamic onion, and lettuce, served with chipotle sauce.  Or how about the Mambo?  Savor the slow-roasted pulled pork on a French baguette with homemade fruit chutney on the side.
Contact info:  628 14th Street, Galveston, TX 77550. 409-763-1010.  Website: www.mosquitocafe.com
5.  Cottonwood
Pack up your kids and fur buddy and head on down to Cottonwood, a full bar with 40+ taps and renowned pub fare.  The Cottonwood experience is for everyone, and there are lots of reasons to celebrate on the spacious covered patio.  Kick back and enjoy the outside bar, live music, deck games, and 55″ LCD TVs.  The club also hosts special events such as crawfish boils, movie nights, and game tournaments, not to mention fundraisers like a pet talent show and dog party to benefit animal nonprofits.
The mind-blowing menu includes salmon deviled eggs, barbecue oysters, chicken pot pie, and for brunch, tres leches French toast and biscuits with gravy.  Dive into their famous squirrel master burger masterpiece:  an Angus burger stuffed with poblano peppers and topped with smoked bacon, pepper jack cheese, and a jalapeno fried egg. Wow!  And bow wow too!
You'll find everything you need among Cottonwood's endless bar choices that include chilled craft beers, cocktails, wine, and whiskey.  Meanwhile, your four-legged family member will be feeling like one of the gang here also, enjoying a bowl of cool water served to him.

Contact info:  3422 North Shepherd Drive, Houston, TX 77018.  713-802-0410.  Website:  www.cottonwoodhouston.com