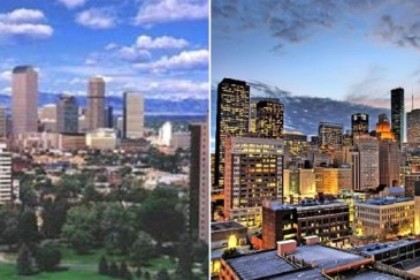 Denver Colorado and Houston Texas have some similarities with their historic neighborhoods, cutting edge restaurants, growing industries, high-rises with downtown city views and luxurious layouts of homes with acres of land. Denver is in the South Platte River Valley on the Western edge of the High Plains just east of the Front Range of the Rocky Mountains. Denver is the fastest growing major cities in the United States. Denver Colorado has the beautiful Rocky Mountain, national parks, wildlife watching, cosmopolitan cities, historic landmarks and snowmobiling, skiing and snowboarding activities. Denver's economy is based on its geographical location and it connections to some of the company's major transportation systems. Molson's Coors Brewing Company headquarter are there and Newmont Mining Corporation (second largest gold producer) are located in Denver. Houston is based on energy, manufacturing, aeronautics and transportation. Houston has the 2nd most Fortune 55 headquarters in the United States. Houston has the 4th largest skyline in the United States. The inexpensive cost of living, tax breaks, employment opportunities, inexpensive housing, direct flights to almost anywhere, savor cuisines of amazing restaurants, trendy shops, diverse cultures, and friendly people are offered in Houston Texas. They both have the Cowboy theme yet mixed with luxury living.
Housing Market
Denver Colorado and Houston Texas housing market is not slowing down. Buyers in Denver are reconsidering to build because of increased interest rates and are nervous not knowing what their payments will be. The average cost for a detached home is around $500,000 of a 12% increase. Denver home buyers need an average salary of around $80,000. Houston is declared the third best real estate market for first time buyers. The average listing price in Houston is $412,964 for a home for sale. Houston home buyers need an average salary of $50,000. Colorado has a state income tax of 5% and Texas does not have a state income tax.
Weather
The weather differs considerably between the two places. Denver Colorado has the high altitude and average temperature of 50 degrees. The snowfall for the year is 64 inches and 16 inches of rain. You need to drink a lot of water in Colorado because of the high altitude. The winters can be from 17 degrees to 40 degrees. You do have seasons in Colorado. May through August is the summer months. Houston temperatures vary from 35 degrees in the winter and 100 degrees in the summer. Houston is very humid and average rainfall is 49.8 inches of rain. Houston has very hot summers from May through September.
Cost of Living
Denver cost of living is higher than Houston. To register a car in Denver you must pay $300 and $65 per car. A one bed room apartment in Denver is $1611 and Houston is $1375. A two bedroom apartment in Denver is $2776 and Houston is $2420. Daycare in Denver is $1068 a month and in Houston is $947. The average salary for Denver is $3513 a month and for Houston is $3596 a month. The median age for Denver is 37 years old and Houston is 37.1 years old.
Sports and Airports
Denver has their Denver Broncos, Colorado Rockies, Denver Nuggets, Colorado Avalanche and Colorado and Colorado Rapids. Houston has their Houston Texans, Houston Astros, Houston Rockets and Houston Dynamos. Both cities have major sports an arenas. Denver has 1 airport named the Denver International Airport compare to Houston has 2 airports called Bush Intercontinental and Hobby Airport.
Points of Interest
Denver Colorado has the Rocky Mountain with various amazing snow activities to visit. Outdoor activities of snowmobiles, snow skiing, snowboarding, hiking, sleigh rides, fly fishing, and bike riding. Colorado has to offer back country tails with the beautiful scenery of snow covered valleys and strands of evergreens and aspen trees. You can find thrills of speeding down that snow covered mountain with snowmobiles, snow skiing, and snowboarding. Other Colorado adventures are sleigh rides and ice skating in the resorts. Copper Mountain Ski Resort is in Summit County Colorado and has 2450 acres of ski-able area and elevation of 12,343 feet. The resort is known as one of the oldest ski resorts in the United States. Keystone Ski Resort has 3000 acres of skiing and elevation of 13050. They have the largest outdoor ice-skating rink (five acres) in North America. Breckenridge Ski Resort is in Breckenridge Colorado of 2908 acres of skiing and 12987 feet of elevation. The winter activities are snowshoe tours, gold mine tours, ice skating, winter fly fishing, sleigh rides, dog sledding with Siberian huskies, and snowmobiles Vail Ski Resort is in Vail Colorado of 5289 acres of skiing and an elevation of 11570 feet. Vail Ski Resort is the third largest ski resort in the United States. Aspen Ski Resort is in Aspen Colorado with 675 acres of skiing and 11675 feet of elevation. The activities are snowboarding, skiing, snowshoe tours, mountain biking, ballooning, rafting, snow cat diners, and magical skiing.
Houston has the trendy shopping, and exquisite dining in the Galleria area with the Houston Skyline. Houston Livestock Show and Rodeo is the largest rodeo and livestock event benefiting the youth! The Event runs through February 27th through March 18th. The Rodeo has carnivals, live concerts, wine-tasting, livestock shows, shopping, dining and the traditional trail ride. Southern friendly hospitality mix with an urban chic city keeps Houston life always interesting and exciting!