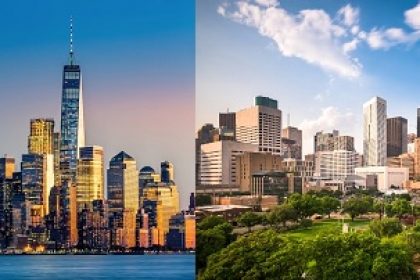 Houston and New York City have similar business sectors and art sector. Many New York citizens are tired of crowd, traffic, high cost of living, and cold weather. The inexpensive cost of living, traveling Broadway shows, great job opportunities, direct flights to almost anywhere, savor cuisines of amazing restaurants, trendy shops, world class museums, diverse culture, amazing nightlife and friendly people are offered in Texas. Affordable housing, lower cost of living, lower crime rates, pleasant weather and more land are all attractions to move to Texas.
---
Cost of Living
New York has a high cost of living while Texas has lower unemployment rate which indicate better career opportunities and economic growth. The average monthly housing cost for a home in New York is $645,000 and Texas is $220,000. The average salary for Texas is $60,000 and New York is $78,000. There are no state income tax in Texas. Most of Texas revenues come from taxes on businesses, property and retail sales.
Art Sector
Texans are proud of their amazing cuisines of authentic Mexican food to world class barbecue, chicken fried chicken and steak and Blue Bell ice-cream. The Houston Rodeo is the largest rodeo in the world benefiting the youth. The Houston Rodeo has carnivals, live concerts, wine tasting, livestock show, shopping, dining and the traditional trail ride Theatre district downtown Houston and Dallas offer Broadway musicals and plays. World class Museums and art are everywhere in Texas. Austin is the music capital of the world. Texas has plenty of options of entertainment from amusement parks, trendy shopping, amazing nightlife, and live music.
Education and Sports
Texas is known for their high ranking colleges such as Rice University, University of Texas, Texas A & M, Southern Methodist University, Texas Tech University and Baylor University. Texas is home to several national pro sport teams including the Dallas Cowboys, Houston Texans, San Antonio Spurs, Houston Rockets, Dallas Mavericks, Texas Rangers, and Houston Astros.
Moving from New York to Texas
Moving can be a very stressful time and challenging to get all your valuables from one state to another. Your best interest is to hire professionals who can make the move more efficient and smooth as possible. A long distance move is determined by weight and distance. You want to hire a registered mover with the proper credentials. A registered mover will be assigned an USDOT number and MC number and Texas DMV number. The mover should provide you a free moving quote. You want to read the Better Business Bureau reviews, reputable websites, and membership of American Moving and Storage Association for finding reputable movers. Movers should provide the following information-a written estimate, mover's tariff, mover's arbitration program, process of handling claims, Ready to Move brochure and Your Rights and Responsibilities When You Move.
The customer's responsibilities are reading all moving documents issued by the mover. You want to make sure you are ready for pickup and delivery time of your shipment or promptly notify your mover is something has changed. Professional movers for out of state moves help you save time and money and makes your move more successful. Professional movers also can help you assemble large furniture, handling delicate items deliver in temporary storage and transport your valuables nationwide. Moving to another state can be fun and adventurous.