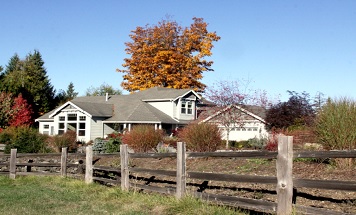 When you start the process of moving to an equestrian property, visit the land in person. Pictures and addresses may not always be correct. Analyze your location to make sure you are in the right area to pursue your own needs and are suitable for your horses. You need to check the zoning on your equestrian lands of what you are being taxed on and you are remaining complaint with local zoning laws. One and half acres is required for one horse and with every new horse needing an additional acre. Natural bodies of water have laws protecting them from the environment. You need to check the local irrigation district for water easement. Easements for flowage, open space storm drains, utilities and sewer pipe lines are all important to know where they are. The location, acreage area, community, accessibility and natural habitat are important concerns when purchasing your equestrian real estate.
---
Purpose of the Equestrian Real Estate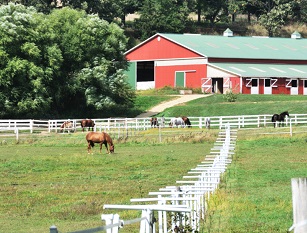 The location of your equestrian real estate should be determined by its purpose. Equestrian Estate is it being used for ranching, riding, training or showing your horse. You want to make sure your property has enough riding spaces or find a nearby place. If you decide to expand your acreage in the future, make sure you check out nearby areas too. Riding Arenas are well drained and have good riding conditions. You want your land to be surrounded by a beautiful and comfort home with amazing pastures and riding trails.
---
Natural Habitat and Water Supply
The ranching pastures should have rotational grazing system, ideal soils and looking for poisonous plants and weeds. The ideal soil is to be sandy and organic. You may need to replace the synthetic materials on your property to keep the riding area cushioned for the horses. Natural water supplies need to be checked. A horse can drink 5 to 10 gallons of water per day. Your horse ranch needs waterways, water supplies and natural water features. You can install a drain line or a ditch for the water to runoff. Waterways should be lined with concrete or stone to help prevent erosion. Your land should not have more than a 15 per cent slope. Rocky soils and steep slopes can cause strain on delicate tendons and ligaments.
---
Barns, Equipment and Fences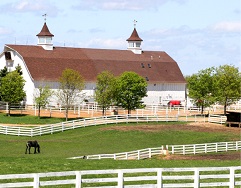 The barns and stables need to be checked out for secure structures. Fences and stalls should be well maintained and checked regularly for loose nails, cracked boards or loose posts. You need a place to store hay and equipment as well as providing shelter for your horses. A tack room should be secure, be able to store food, saddles, bridles, blankets and have adequate lighting and storage conditions. Your land should have space for your tractors, trailers, and any other ranch equipment.
---
Community and Access to Services
The accessibility of your horse ranch is crucial for being near to vets, and feed and tack stores, training facilities and riding schools. You want your community to be horse friendly. Ride out refers to riding trails that are out of your area. You want to make sure you have permission to ride in these areas. . Horses require a lot of people to keep them healthy. You want to make sure your property is accessible easily to vets and delivery services.
---
Modeling Your Ranch Home

Equestrian estates are not just for horseback riding yet for luxury homes with grand country houses surrounded by acreage devoted to paddock, pasture land, and riding trails. Ranch homes today fuse modern ideas with wide open space creating an informal living space that blends into nature. A rustic ranch house full of charming details is perfect for the country living. Monotone and neutral colors in a mix of dark woods and raw woods and blacks and white and creates a rural rustic looks that would dress up any ranch home. Wooden tables, and functional sofas are much needed in a ranch home. White and beige are great neutral color with bright color accessories to add a snap. Shiplap, wood floors, and subway tiles are a great addition to add to your ranch home. A fireplace adds the warmth with brick or stone to your county home. A ranch kitchen is beautiful with farm house sinks, and glass or opening shelving for your white dishes. A large wooden dining room table is perfect for those wonderful family meals. Big Basin sinks and Modern claw foot tubs show a vintage look for the bathroom. Sliding barn doors, Wrought Iron décor and galvanized metal add such a unique ranch look to the house. You can enjoy beautiful sunsets and sun rises, quiet nights, and vivid colors of rainstorms while living on your ranch. Ranch living has you appreciate nature and enjoy the calmness of the country.
---