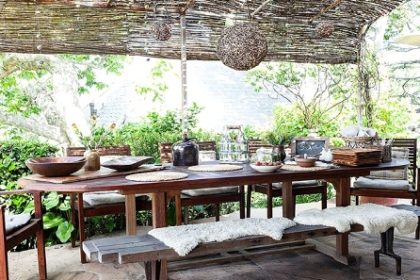 Summer Outdoor Entertaining is a way to have fun with your family and friends. A laid back evening with food, wine and good Company is a great way to start a party. The weather is hot in the summer therefore you may not want to start until 7:00 and have cooling fans around. Here are five different summer parties you can have in your own backyard.
---
Backyard Movie Night Party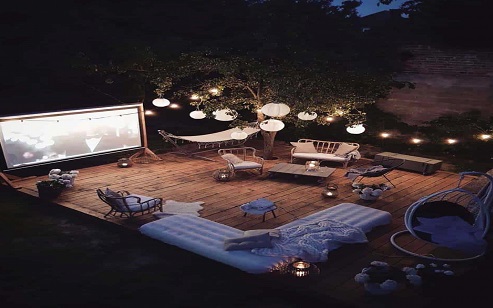 Backyard Movie Night Party are fun to plan and have. You need a projector, sound system, a screen, bed sheets and blackout cloth. Seating area of outdoor furniture, indoor furniture, pillows, outdoor rugs or just blankets to create a cozy atmosphere. Lighting can create an ambiance with torch lights, lighted balloons rope lighting, or glow sticks for kids. Snacks of popcorn, candy, trail mix, and s'more. You want to serve different kinds of toppings for your popcorn. Drinks can be in buckets of ice so guests can reach them easily. You could also have water bowls for pets if invited. You can have a theme for your movie night. Movie night can be for adults or children.
---
Backyard Dinner on the Patio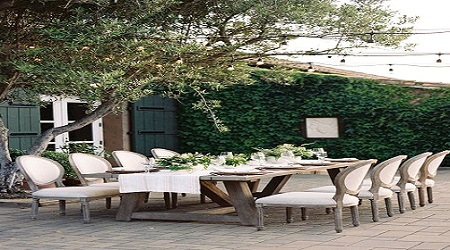 You can use your own dishes from inside to create a formal outing. Candles and flowers are the most elegant way to decorate your table. Rope lighting and torches add an ambiance to the night. A dinner playlist and a drink bar ready for your guests will start the mood for your party. Ice buckets are a great way to keep the drinks chilled. Appetizers of antipasti plate and fruit are a great way to serve your guests while waiting for dinner. Caprice salad and Pasta are good entrées for the menu to have outside. Deserts of ice cream is a nice way to keep your guests cool. Once your guests have all arrived you could start the dinner and have music playing and enjoy the night.
---
Backyard Pool Party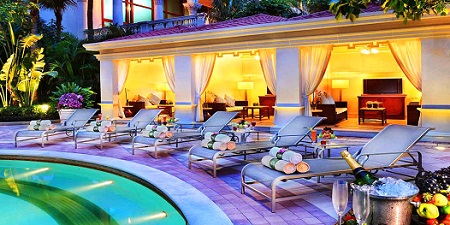 Backyard pool parties are the best. You stay cool and the ambiance of the pool is beautiful. You can have huge party floats and night light balls in your pool. You could have a theme for your party also. Tiki torches, lantern lights, rope lighting and pool lighting are great ways to show off your pool. You want to stay hydrated with fun drinks. Fruit trays and vegetable trays are great appetizers for your guests. Barbecue or grilling is fun for a pool party also. Beach towels and flip-flops are great accessories if you can have them. If your party is during the day have a sunscreen station. Party playlist is a definite to create the party mood.
---
Backyard Wine Party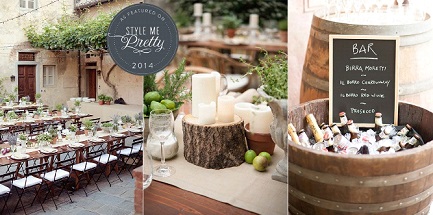 Pair your wines with your food. You want to have an antipasti and fruit as our appetizer. Chocolate defiantly is your desert. Flowers and Candles can add beauty to your tables. Wine barrels are a fun way to create the wine party décor. Wine corks are fun to add in vases with flowers. You could have wineglasses with the guest's names on them. A cigar bar would be fun for your guests. Music and lighting will create the wine party everyone will be talking about.
---
Backyard Pizza and S'mores Party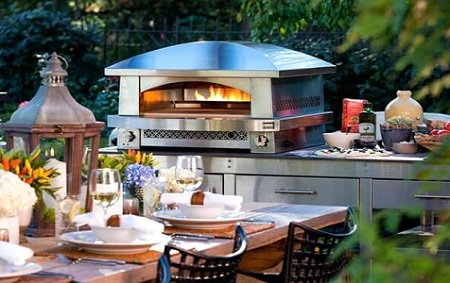 A pizza and S'mores party can be very causal and fun! Plan the menu of different kinds of pizza to make from Marghertia, Grilled vegetables, Pepperoni to a Meat lovers pizza. Have all your toppings ready to add to the pizza. Your guests can assemble their own pizza. Serve the pizza on wooden pizza boards with your favorite wine. S'mores make great deserts and involves the guests in cooking their deserts. Music will add to the mood of your party. You just want to have fun and enjoy the outdoors and our friends and family.
---