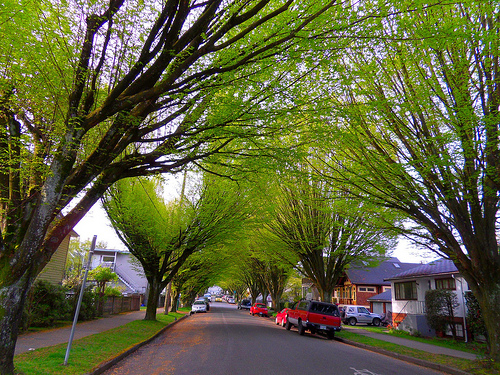 You're looking for that perfect home and the old mantra "location, location, location" keeps running through your head. What's that even mean? Maybe you know that you want a home with an eat-in kitchen, or a fireplace, or a shuffleboard court in the backyard. But knowing what you want in your home isn't the same as knowing where you want your home to be. Choosing the perfect neighborhood helps you narrow down your choices if you're early in your home hunt, and choosing between two neighborhoods might be a deciding factor if you've found a few ideal homes.
What's It Going to Cost?
Every neighborhood affects your checking account differently. Check out the property taxes to see if your annual cost will be lower in one or the other. Your home insurance costs can be a factor too. Sites like homeinsurance.com provide you with a homeowner's insurance calculator to estimate the costs of homes in the neighborhoods you are comparing. We're talking hundreds of dollars per year in potential differences here.
How's It Look?
Does one neighborhood have lots of nicely maintained homes and manicured lawns? Maybe another has homes that are more run down and unkempt. It doesn't necessarily matter how nice the house you are considering looks; if the rest of the neighborhood isn't taken care of, your property value will be depressed. And there's nothing worse come selling time than being frustrated because your neighbors have prairies instead of yards.
Who Lives There?
Take a drive through a few neighborhoods early in the evening. If you are a family with a few young kids, that neighborhood full of retirees watering their lawns might not be the best fit for you. If you're looking for a quiet place to retire, the block where the kids all pretend to play Quidditch in the street should probably be crossed off your list. An evening jaunt through the neighborhood should give you a pretty good idea if you'd be comfortable there.
What Else Is Around?
What do you like to do the most? Do you visit the library every week? Do you eat out a lot? Does the bar scene draw you in every weekend? As you compare neighborhoods, check the proximity of places you'd likely visit often. Save gas and never have to designate a driver because you can just walk home? That's a win-win.
How's the Noise?
Some folks like a little action in their neighborhoods, but not many people go searching for a home that's at the end of an airport's flight pattern or down the street from an ambulance service. These things don't show up on home disclosures, so do some homework and spend a little time in the neighborhoods you are considering. It could be the difference between peaceful nights and an investment in earplugs.
Creative Commons image by www.metaphoricalplatypus.com