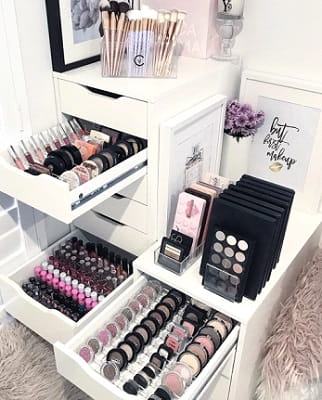 Get Organized
You want to get organized and clean out the old makeup and toiletries. Take stock of your inventory of makeup and figure what needs to be discarded and what needs to be kept. Discard old bathroom items and discontinued items and look for expiration dates. Eye makeup should be discarded after 3 months, and other makeup discarded after a year. Perfect timing is required when packing your bathroom items. You will want to pack an overnight bag with your essential makeup, medicine, and first aid for yourself and family.
---
Sort and Separate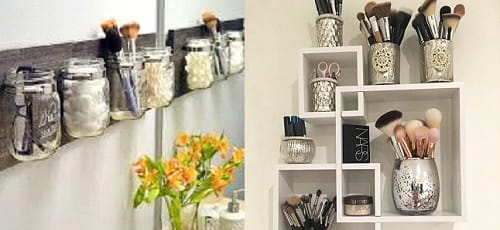 Sort your makeup and toiletries by categories. You can separate everyday makeup from special occasion makeup. When packing bathroom items, you can pack breakable items in towels. Pack potential spill risk items in plastic bags. Line and pad your boxes for these items. You can pack makeup in makeup bags or in hat boxes.
---
Select Organizers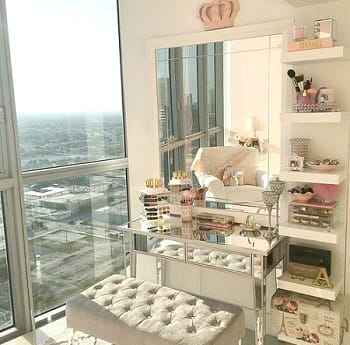 Apothecary jars, drawer dividers, basket and plastic containers are perfect for storing bathroom items. Mason jars on walls are cute display for bathroom accessories. Vanity trays on your make up table are pretty displays for makeup. Drawer with dividers help organize makeup brushes and accessories. Modular makeup drawers, clear acrylic makeup organizers and Lucite drawers are the ultimate dream makeup organizers and you can see what you are looking for. Clear bins are great ways to move and transfer your makeup.
---
Lighting and Décor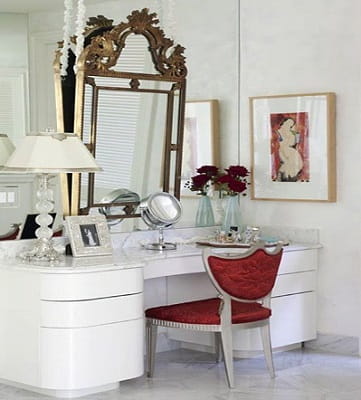 Infuse color, design and vintage art to create your personality in your makeup room. Lighting in your bathroom helps ambiance and cleaner look to your bathroom. You can choose from chandeliers, table lamps, makeup mirrors or bright lights around your vanity area. Natural lighting is best for applying makeup. Fancy lighting needs to have direct light to our face to apply makeup. A full size gorgeous mirror is a must to enhance the glamour look of the vanity area. You want something large enough to reflect ample light. Antique mirrors add the extra special touch to the vintage vanity area. Small benches and vanity stools add the fun to the vanity area and fur and animal stools gives you the pop needed. You want to have storage for your makeup and vanity items. Flowers, decorative lamps, photos and candles add that special touch you need to your vanity area. Candles provide the amazing scent, decorative lamp provides the lighting, photos and flowers will lift your spirits. A beautiful and organized vanity area gives you the glamour you deserve and makes you feel good about yourself.